Children's of Alabama marks National Injury Prevention Day
November 17, 2023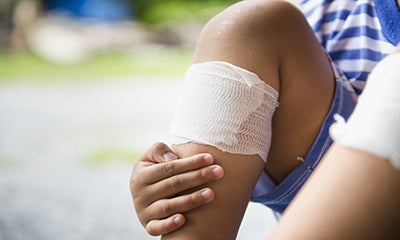 Birmingham, Ala. (Nov.17, 2023) — Injuries and violence are the leading cause of death and disabilities for people aged one to 44. Statistics such as these have led injury and violence prevention organizations, such as Children's of Alabama, to team up for the fourth annual National Injury Prevention Day on Saturday, Nov. 18. 
"National Injury Prevention Day is a day hosted by the Injury Free Coalition for Kids each year as a way to get the injury prevention messaging spread nationally," said Dr. Alicia Webb, a pediatric emergency physician at Children's of Alabama. "It is also a day to give people the tools they need to keep their children safe."
Children's will join several other organizations to light a pathway to safety. Beginning at dusk on Saturday, the hospital will be lit in green to help raise awareness about injury prevention.
According to the Injury Free Coalition for Kids, every day, 20 children die from preventable injuries. One of those preventable injuries involves safe sleep for infants.
"Sudden infant death syndrome (SIDS) or sudden unexplained infant death are very common causes of death for babies," said Webb. "Parents should remember the ABCs of safe sleep, so make sure the child sleeps alone. Put the child to sleep on their back and then put the child to sleep in a crib or bassinet or a pack-n-play, something with a firm surface."
Every year in the United States, nearly 3,500 infant deaths are linked to sleep-related issues. 
Another concern for parents is button batteries.  These are the small, round and shiny batteries that are in a lot of toys and also in hearing aids. Button batteries pose serious risks for children, particularly when they are swallowed. 
"It is important for parents to make sure they know where the button batteries are," said Webb. "If you are buying toys that have button batteries in them, it is important to look and see what the latch looks like or where the compartment is to ensure it is secure. Also, if you store batteries at home, store them up and away from where children can get to them."
ATVs (all-terrain vehicles) are also another concern for safety experts. Webb says ATVs are a common cause of injuries nationwide.  ATVs are off-road vehicles often used for recreation and farm work. There are no federal regulations or age limits when riding ATVs. Instead, each state has its guidelines and laws. In the state of Alabama, registration is required. However, you don't need a driver's license or certification to drive an ATV. Webb also says it is important for parents to know that ATVs are heavy motorized machinery.
"The adult-sized ATVs are only designed to be ridden by someone over 16, and those traditional four-wheelers are only designed to be ridden by one individual," said Webb. "It is also important to make sure children are wearing their helmets while they are riding to prevent traumatic brain injury."
Webb says parents must also remember that ATVs should not be ridden on roads.
Visit Emergency Department | Children's of Alabama (childrensal.org) for more information.