Children's of Alabama Honors Local Doctor with Endowed Professorship
September 30, 2022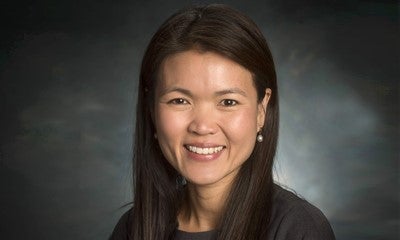 Children's of Alabama, the state's only freestanding pediatric hospital, is honored to announce the accomplishments of a doctor who has made substantial contributions not only at Children's and the University of Alabama at Birmingham but also to the central Alabama community.
Dr. Michele Kong will receive an endowed professorship from Children's on Oct. 1.
Kong is a native of Malaysia. She attended medical school at the University of Calgary before moving to Jackson, Mississippi, where she completed her pediatric residency in 2005.  She then came to UAB for her fellowship in pediatric critical care before joining the faculty as an assistant professor in 2008. She was promoted to associate professor in 2015 and then to professor in 2020.
"We are very proud of Dr. Kong's accomplishments for the children of Alabama, the region and beyond." said Children's president and CEO Tom Shufflebarger and physician-in-chief Dr. Mitchell Cohen.
Kong's service contributions include her clinical roles in the Pediatric Intensive Care Unit and her efforts to improve the care of children with autism and sensory integration abnormalities. Her impact can be seen across the country. She has also won local, regional, national and international awards for her work. In 2013, she and her husband, Dr. Julian Maha, founded KultureCity, a nonprofit that works to create sensory accessibility and inclusion for children.  Kong initiated the Sensory Pathway program at Children's and developed the Sensory Integration program in 2016. Both programs meet the unique needs of developmentally and cognitively delayed children while being treated at the hospital.
Kong is also a skilled translational researcher. Her research is focused on understanding the role and impact of protease dysregulation in the pathogenesis of RSV-induced respiratory failure in children. She is currently leading an RO1-funded research study that aims to determine whether azithromycin therapy during RSV-induced respiratory failure would reduce lung MMP-9 levels and modify the course of the disease in humans.
 Kong will also receive tenure on Oct. 1.