Children's of Alabama Emergency Department Seeing a Surge of Patients
September 2, 2022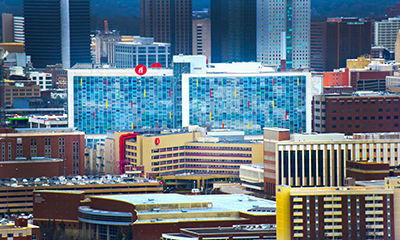 BIRMINGHAM (Sept. 2, 2022)- Doctors at Children's of Alabama emergency department say they are seeing a surge in patients.  Dr. Shaundra Blakemore, Assistant Professor in the Division of Pediatric Emergency Medicine, says this time of year, the emergency department typically sees around 200 patients daily.  Right now, they are seeing approximately 240 patients a day.
"Part of that is school coming back in session, so kids are interacting with each other more and spreading different viruses amongst each other," Blakemore said.  "But I think it's a combination of factors, and COVID is still a big player in our increasing numbers."
Blakemore says having such a large number of patients in the emergency department can be challenging for the staff and families.  She says it could mean long wait times for patients and their families.  She also says it can be difficult for parents waiting to find out their child's diagnosis.
"We want to make sure that we are seeing patients in the order of how sick they are, and if there are so many patients in the waiting room, sometimes sicker children can also be waiting a very long time which can be dangerous," she said.
Blakemore added the emergency department will never turn a child away.  However, she says there are some conditions that don't require an emergency department visit, such as common cold symptoms like a cough or a running nose. If a child has those symptoms, she advises them to talk to their pediatrician before visiting the emergency department.
"Common cold, fevers, parents get really concerned if their child has a fever of any degree where we are used to seeing children with high temperatures, and so we don't advise parents to come to the emergency department for fever alone if the child is otherwise well appearing unless it is a 105 or greater," she said.
She also said anything a parent views as life-threatening is always considered an emergency.