Children's of Alabama ECMO Center named Center of Excellence
July 27, 2022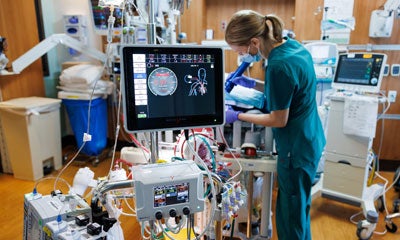 BIRMINGHAM (July 27, 2022) – The Children's of Alabama Extracorporeal Membrane Oxygenation (ECMO) Center earned a prestigious honor this month when an international organization dedicated to ECMO support recognized it as a Center of Excellence. 
 
On July 15, the Extracorporeal Life Support Organization (ELSO) awarded the Children's ECMO Center with the ELSO Award for Excellence in Life Support. ELSO named the Children's center a Gold Level Center of Excellence. 
 
"This is a remarkable achievement by our center, and I am proud of each team member's contribution to this recognition," Martha McBride, clinical coordinator of the Children's ECMO Center, said. "As a Center of Excellence, we are recognized for an exceptional commitment to evidence-based processes and quality measures, staff training and continuing education, patient satisfaction and ongoing clinical care. I am extremely proud to work with such an outstanding, hardworking ECMO team!" 
 
Children's has been recognized as a Center of Excellence every year since 2013. ELSO announces Award for Excellence winners every three years, and Children's is a Gold Level Center of Excellence for the second straight cycle.
 
Recent technology upgrades contributed to honor
 
McBride says the application process for the Award for Excellence is extensive, and she believes recent technology upgrades contributed greatly to this year's submission. Late last year, the center replaced its entire eight-machine ECMO fleet with new pumps manufactured by Spectrum Medical. McBride says the new pumps offer advanced safety features and integrated technology that, among other options, will allow the Children's ECMO team to pull safety and quality reports. Children's also has access to customer support 24 hours a day, seven days a week. It's a significant upgrade from the program's previous machines, which Children's purchased in 2012.
 
"It's really been interesting to see what technology has come to," McBride said. "I like to say: these pumps are more like an iPhone versus the previous flip phones that we had years ago—very advanced and very sophisticated."
 
Children's started using its new ECMO machines in December 2021, and the ECMO Center has supported more than 30 patients with them so far. Children's ECMO operations coordinator Jenny Ross led the implementation effort as the team completed its initial training on the new machines. Ross facilitated more than 100 additional hours of team training.
 
What is ECMO?
 
ECMO is a form of life support used in the most dire circumstances: when nothing else works. ECMO machines can support a patient's heart and lungs, taking the blood out of the body through large IVs, giving it oxygen, removing carbon dioxide and returning it to the body.
 
"If we are to the point of needing ECMO, that patient's chance of survival is severely diminished," McBride said.
 
About the Children's ECMO Center
 
The center cares for about 50 patients each year, which McBride says is a high volume compared to other ECMO programs. And because Children's offers Alabama's only pediatric ECMO program, McBride says having enough machines equipped with the latest technology is crucial.
 
"If we can't provide ECMO support, (patients) have to go outside of the state," she said.