Children's of Alabama announces new practice in western Jefferson County
August 24, 2023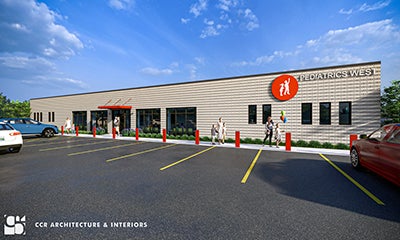 Jefferson County, Ala. (Aug. 24, 2023) — Children's of Alabama is expected to break ground later this year on a new practice in the city of Hueytown. Pediatrics West Bessemer is relocating, and Pediatrics West Hueytown is expected to open in the fall of 2024. This new practice will be located north of the Old Warrior River Road intersection at Allison Bonnet Memorial Drive.
"Children's of Alabama is excited to build a practice in Hueytown and to be a part of such a growing area in western Jefferson County," said Sandy Thurmond, Vice President of Primary Care Services at Children's of Alabama. "This practice will allow us to continue to serve the community by providing world-class healthcare, one patient at a time."
Pediatrics West Hueytown will house five board-certified full-time pediatricians. It will be open six days a week, providing weekend access by appointment for Pediatrics West McAdory and the new Hueytown location. Patients will have access to diagnostic testing technology, medication management and immunization administration, and other services.  This convenient new location will continue to serve patients currently seen at Pediatrics West Bessemer while expanding to serve Hueytown and surrounding areas.