Children's of Alabama Announces Leadership Promotions
September 26, 2022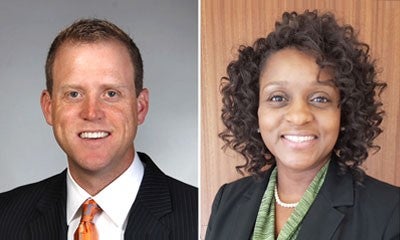 BIRMINGHAM (Sept. 26, 2022) – The Children's of Alabama Board of Trustees has approved two leadership promotions. Andy Loehr has been named chief operating officer, and Delicia Mason has been promoted to the role of vice president and chief nursing officer.
"I am pleased to recognize Andy's and Delicia's significant contributions and growing responsibilities within our organization. Their leadership will be key as we face a challenging healthcare environment made even more difficult by staffing challenges and increasingly more complex patient care demands," Tom Shufflebarger, Children's president and CEO, said.
Loehr joined Children's in 2014 as the vice president of nursing operations. He was promoted to chief nursing officer in 2020 and added the role of senior vice president of operation in 2021. Before joining Children's, he was a staff registered nurse, pediatric nurse practitioner and a nursing director at Children's Mercy Hospitals and Clinics in Kansas City, Missouri. He began his career at Children's Medical Center in Dallas as a staff registered nurse in hematology-oncology.
Loehr graduated from Truman State University in Kirksville, Missouri, with a bachelor's degree in nursing. He received a master's degree in nursing and a pediatric nurse practitioner certification from the University of Missouri-Kansas City. He received his Doctor of Nursing Practice from the University of Alabama at Birmingham (UAB) and completed a fellowship in nursing leadership with the American Organization of Nurse Executives. 
Mason joined Children's in 1998 as a staff nurse in the Pediatric Intensive Care Unit and has worked as a charge nurse, unit educator, quality outcomes coordinator, division director of inpatient nursing and the emergency department, and most recently as vice president of nursing operations. She earned a bachelor's degree in nursing from Auburn University at Montgomery and a master's degree in nursing health systems Administration from UAB.