Child Passenger Safety Week
September 19, 2022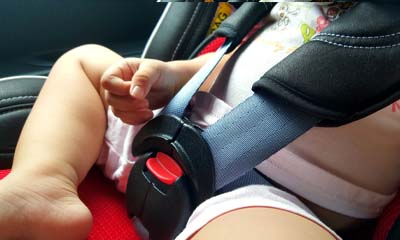 BIRMINGHAM (Sept. 19) — Child Passenger Safety Week is Sept.18-24, and safety experts around the nation are reminding parents of ways to keep their children safe. They say it is a time to highlight the importance of transporting a child correctly in a vehicle.
"We have seen over the years that there will be a misuse rate anywhere from 45% all the way to 95% in how children either ride in the car or how the car seat is installed," said Marie Crew, director of the Health Education and Safety Center at Children's of Alabama. 
According to the National Highway Traffic Safety Administration, car crashes are the leading cause of death for children. In 2020, more than 38% of children who died while riding in a passenger vehicle were not wearing a seatbelt. The NHTSA also says it is estimated that since 1975, the lives of nearly 12,000 children under the age of 5 have been saved because of child restraint use.  This is one of the main reasons why the organization and safety experts encourage parents to take time during Child Passenger Safety Week to ensure they are using their car and booster seats correctly.
"Parents should look at the car seat and see what the limits for height and weight for each car seat are, and they should keep the child rear-facing as long as the child is within the limits of that car seat and not turn them forward-facing until they have reached those limits," Crew said. "Then keep them forward facing in a harness until they reach the height and weight limits of that seat before they move to a booster seat."
Crew added that one common mistake parents make with a car or booster seats include using the wrong system to install it. She said there are two ways: the LATCH system, which stands for Lower Anchors and Tethers for Children, or the vehicle's seat belt system. Crew warns that some parents use both methods, thinking it is safer, but it is not. She also encourages parents who use their vehicle's seatbelt system to lock the seatbelt or remember to use the built-in lockoff device on the car seat if it has one. She also wants to remind parents to set a good example for their children.
"As important as it is for children to be properly restrained, we want parents to be role models, and to be the role model, we need them to be buckled up every time they are in the vehicle; that's major important— children look and see what parents are doing, and they will replicate it as they grow older." Crew said. "It is also a major safety factor on our roads; a lot of our fatalities, no matter what they are doing, also involve no seatbelt use."
Help is available for parents. The NHTSA has a website where you can find a car seat check clinic with certified technicians in your area. Children's of Alabama also offers a clinic with certified technicians.