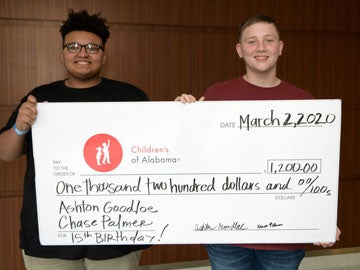 If you would like to express your gratitude for the outstanding care you or a loved one received at Children's of Alabama, here are some ways you can do so:
Share Your Story
Serve as an advocate by sharing your story with others to raise awareness and inspire other patient families receiving care at Children's of Alabama.
Apply to become a Miracle Family to attend events and/or share your Children's journey throughout the year.
---
Give
Make a donation in honor or in memory of a loved one that received care at Children's, or in honor of a caregiver that went above and beyond for your child.
You can donate online here or mail checks payable to Children's of Alabama to:
Children's of Alabama Foundation
1600 7th Avenue South
Birmingham, AL 35233
Please include honoree's name in the memo line.
---
Fundraise for Team Children's
Join Team Children's and become a Champion for Children's by turning an activity you love into a fundraiser. Whether you're celebrating a milestone or special occasion, honoring a loved one, participating in an athletic endeavour or want to get creative and fundraise your own way, its never been easier to show your support for Children's of Alabama.
---
Host Your Own Community Event
Events can be a beneficial way for patient families to heal from a challenging medical journey. If you are interested in learning more about hosting an event of your own, click here.
---
Learn more about Grateful Patient Giving by contacting Grace Graffeo at Grateful@ChildrensAL.org.