Muscular Dystrophy Care Center
---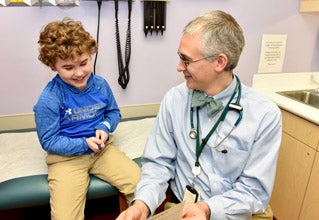 The Muscular Dystrophy and Neuromuscular Clinic at Children's of Alabama offers a multidisciplinary team approach in the diagnosis, treatment and continuing care of children with neuromuscular diseases. Supported in part by the Muscular Dystrophy Association (MDA) and Cure SMA, we provide comprehensive medical care to a variety of neuromuscular illnesses.
Clinic Location
1600 7th Avenue South
McWane Building, Clinic 6
Birmingham, AL 35233
Phone Number-New Patients:
205-638-9941
---
Conditions treated:
Each year, we care for more than 200 patients from around the southeast with a wide range of neuromuscular disorders including:
Becker Muscular Dystrophy (BMD)
Chronic Inflammatory Demyelinating Polyneuropathy (CIDP)
Congenital Muscular Dystrophy
Emery-Dreifuss Muscular Dystrophy
Facioscapulohumeral Muscular Dystrophy (FSHD)
Friedrich's Ataxia
Limb-Girdle Muscular Dystrophy
Myotonic Muscular Dystrophy
---
Our multidisciplinary team works to coordinate the majority of patient care into one same-day visit.
Specialists in clinic:
Cardiology
Genetic Counselors
Neurology
Nutrition
Palliative Care
Pulmonary Medicine with Respiratory Therapist
Rehabilitation Medicine with Physical and Occupational Therapist
Social Work
Endocrine referrals available.
Individuals suspected by their physician of having neuromuscular disorders included in the MDA's program have access to a network of services. The MDA medical staff can advise about the initial diagnosis and recommend measures to medically manage neuromuscular disease. Follow-up care ranges from management of symptoms to medical intervention designed to assist individuals in maintaining the highest possible quality of life.