Frequently Asked Questions (FAQs)
---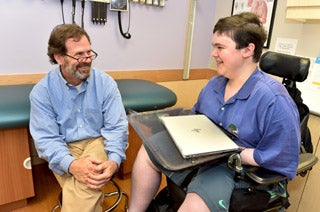 How do I make an appointment? If you have been recently diagnosed with a neuromuscular disease or are new to our area, please have your primary care doctor fax a referral to our clinic nurse at 205-638-9793. Please also bring records of any prior testing performed elsewhere, such as x-rays, MRI scans, muscle biopsy slides, EMG reports, lab testing results and consults or medical reports/records.
How often will I be seen in MDA Clinic? Follow-up visits are usually scheduled twice annually, but at certain stages in the progression of your disease, more frequent checkups may be indicated.
How long do clinic appointments take? During your visit child will be evaluated by multiple members of our team. A typical visit will take about two hours. We recommend that you bring toys, books and snacks to occupy the time.
Will I need to see any additional doctors outside of MDA Clinic? You will still continue to be seen by your local primary care physician. A summary report will be available upon request to your personal physician after initial MDA Care Center examination and after each follow-up visit. In addition, your MDA Care Center physician may advise your primary care physician on problems related to your specific conditions.
Depending upon your diagnosis, consultations with various specialists may be recommended, such as a cardiologist. Initially, the purpose of such visits may be to establish baseline measurements of heart function so that these can be monitored for changes. 
What is I have questions about my child's genetic diagnosis? Genetic counseling may be provided to families of those who have any of the inherited neuromuscular diseases. Our Genetic counselors help with obtaining and interpreting genetic (DNA) tests, insurance coverage for genetic testing, and identifying others within the family who may be at risk for the genetic disorder.
Is your MDA Center involved in clinical trial research? Yes. We enrolled in our first clinical trial for Duchenne Muscular Dystrophy patients in 2017. We anticipate increased clinical trial involvement in the coming years. We refer to clinicaltrials.gov for the most up to date list of available clinical trials in our area.