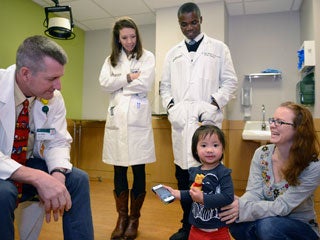 Pediatric Neurosurgery at Children's of Alabama remains one of the most academically productive and well respected programs in the country. The program, founded by Jerry Oakes, MD, a world-renowned authority on Chiari malformation and spinal dysraphism, has trained 16 fellows, most of whom have gone on to prominent academic and leadership roles in pediatric neurosurgery. Faculty are currently conducting research in hydrocephalus, spina bifida, epilepsy, Chiari malformation and syringomyelia, sports concussion, rapid diagnostics for shunt infection and meningitis and viral treatment of brain tumors.
Research in Plastic Surgery is focused on outcomes in both cleft and craniofacial care. We have worked very hard to minimize the need for revision surgical procedures. Current data shows a palatal fistula rate consistently below 1% and only a 5–7% need for additional operations to improve speech. This means that the vast majority of patients need only a single operation to repair their cleft palate. Our large cumulative experience with over a thousand palate repairs also means we have a data driven approach in the rare cases where speech is not as desired following initial repair. Secondary procedures are customized to the patient's specific anatomic problem in order to minimize risks of complications such as obstructive sleep apnea.
Research in the care of older (frequently adopted) children with unrepaired or poorly repaired clefts has also allowed us to develop an evidence based approach to these challenging patients, once thought to have a less positive prognosis. Indeed, repairs after the age of two years are now commonly associated with excellent outcomes, allowing these children to rapidly optimize speech and appearance. Cutting edge approaches to fistula repair have essentially eliminated recurrence, further helping us minimize the total number of surgical procedures.
We utilize information gained through our outcomes research to constantly refine our techniques. This enables us to provide you with the most complete information regarding what you may expect from your child's care in our Center.