Global Outreach Initiatives
---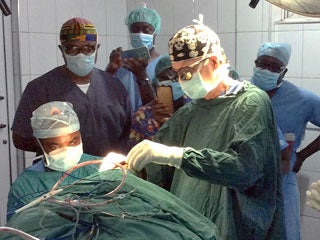 Children's of Alabama specialists in pediatric plastic surgery and neurosurgery, along with surgeons from pediatric surgery, orthopedic surgery and cardiothoracic surgery, are taking part in the Global Surgery Program, which was formalized in 2014 under the leadership of James M. Johnston, Jr., MD. The program seeks to expand and enhance Children's pediatric surgical and medical expertise through collaborative, reciprocal arrangements with medical communities in targeted parts of the world—including Ghana, Kenya, Mexico and Vietnam.
Through this global initiative, Children's surgeons travel to partner pediatric hospitals worldwide to perform surgery, educate local providers and provide expertise in the creation of standardized management protocols for complex surgical diseases. Additionally, surgeons and research coordinators from those partner institutions travel to Birmingham for training fellowships to advance their knowledge and skills and to participate in research endeavors.
Solomon Obini Yeboah, MD, DMD, of Ghana (pictured here, right top and bottom, with John H. Grant, III, MD), is one such young surgeon. Dr. Yeboah worked side by side with Dr. Grant during his 11-month training fellowship at Children's. In turn, Dr. Grant will continue to travel to Ghana to work with Dr. Yeboah and neurosurgeon Frank Boakye, MD, to establish the first craniofacial program in Sub-Saharan Africa.
During the one- to two-week trips to partner pediatric hospitals, Children's surgeons see patients in clinic alongside local physicians—and Dr. Johnston stresses the mutual benefits of the program for both sides of the exchange. "I frequently perform complex surgeries that I don't see as often in the United States," he says. "Our overseas colleagues benefit from our visits, which is of course fundamental to the program. But when I come back to Birmingham after a visit to Ho Chi Minh City, I'm also a better surgeon."
To further supplement the efforts of the Global Surgery Program, a Virtual Interactive Presence and Augmented Reality (VIPAR) Internet link was established at Children's Hospital #2 in Ho Chi Minh City, Vietnam, to allow Children's of Alabama neurosurgeons to provide real time surgical mentoring for complex neuroendoscopic surgery.
In an alliance with the Global Surgery Program, Pediatric Plastic Surgery offers a fully-funded, 11-month fellowship specifically targeted toward plastic surgeons from developing nations who recognize the need for cleft and craniofacial care in their home country and desire further training to provide this care safely with high quality outcomes.