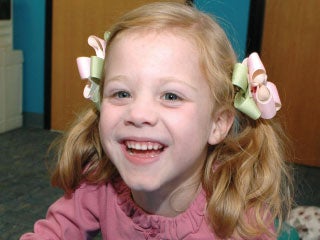 Results of recent research show that many children benefit from episodes of intensive therapy. While outpatient therapy services may be provided from 3 times per week to once per month based on individual needs, intensive therapy episodes may be provided more frequently over a short period of time in order to meet specific goals. Intensive therapy may be recommended following surgery, injury/illness, or a growth spurt, during the summer for school age children, or when preparing for transition to a different environment.
Day Treatment
Day treatment programs are available for children and adolescents who are recovering from neurologic illness or injury or who have a disability resulting in difficulty performing tasks of daily living independently.
The program offers the intensity of inpatient rehabilitation without the hospital stay. The day treatment program provides at least 2 services per day (PT, OT, speech, education, and/or counseling). These services are offered 2 to 6 hours each day, 5 days per week for 1-3 weeks at a time.
Post Surgery
Intensive therapy is required for children who have selective dorsal rhizotomy. Services are provided twice a day for several weeks, daily for several more weeks, tapering off to several times per week. Those receiving complex orthopedic surgeries such as leg-lengthening, or multi-level surgeries may also benefit from intensive therapy following surgery.
Intensive Physical Therapy
Intensive Physical Therapy is aimed at improving strength, endurance, balance and movement skills. The frequency for each child is individualized and may be offered 2-4 hours each day, 3-5 days per week, for up to 3 weeks. Children participate in this program on an individual basis as well as interacting with other children receiving similar therapy.
Sensory Integration
Children with sensory integration or sensory processing issues can often benefit from and intensive therapy regime designed to aid these children and their families in working through daily challenges and learning to interact will with others at home, in school and in the community. After being evaluated, an appropriate treatment program will include individual and/or group therapy as well as a home program focused on accomplishing the family's desired goals.
Handwriting
Pre-school and school-age children sometimes experience difficulty in pre-handwriting task such as coloring and cutting as well as handwriting task, including printing and cursive writing. This could result from motor deficits, weakness or a lack of coordination. Treatment for handwriting problems is provided on an individual or group basis, with home program design and follow-through key elements for success.
Feeding
Feeding difficulties in children vary from limitations in food selection to the inability to take food by mouth. Often feeding therapy can reduce or eliminate these problems. Although some feeding problems are resolved easily, others may require intensive therapy. Intensive feeding therapy is frequently scheduled for 1 to 2 weeks at a time, several days each week with particular emphasis on family goals.
Constraint Induced Movement Therapy
Children with Hemiplegia often benefit from and intensive program that limits the use of their "good" side while they learn to use their more affected side. The PT & OT Department works in collaboration with UAB to provide these services. Evaluations, therapy, parent education, and cast/splints are provided at Children's on 3rd Outpatient Therapy Center. These services are offered 2-3 weeks for 3-4 hours, 3-5 days per week.
Therapeutic Listening and Interactive Metronome
Therapeutic Listening and Interactive Metronome are relatively new types of therapy designed to promote coordination and sensory motor planning in children resulting from a variety of diagnoses. Children usually receive these services as part of an intensive therapy routine lasting several weeks at a time.
Activities of Daily Living (ADL) Intensive
The PT & OT Department offers an intensive approach to meet the individual needs of children and adolescents in the areas of self care, or Activities of Daily Living. These skills may include dressing, grooming, bathing, bathroom skills, feeding, meal preparation, housekeeping and leisure skills. The goal is to provide an intensive model of therapy to target specific goals, allowing for more independence in daily life.