Developmental Services for Infants and Young Children
---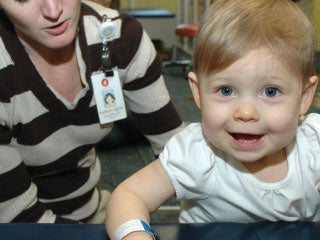 Pediatric Physical Therapists and Occupational Therapists have expertise in working with infants and young children to:
Identify problems with development of movement, play skills and eating/feeding
Promote movement and development
Teach parents and other caregivers ways to encourage development
Department of Physical Therapy and Occupational Therapy
Children's of Alabama - McWane Building
1600 7th Avenue South
Birmingham, AL 35233
205-638-9645
Children's on 3rd Outpatient Center
1208 3rd Avenue South
Birmingham, AL 35233
205-638-6289
Download Developmental Milestones
Infants and young children typically learn and develop in a predictable way. Early milestones have been identified to guide parents' expectations of when and how young children will develop movement, play, and eating/feeding skills.* Parents know their children best. If you are concerned that your child is developing at a different pace, help is available.
Some infants and young children have conditions at birth or in the first 2 years of life that may affect development of movement, play and eating/feeding skills.
Such conditions may include:
Brachial Plexus Injury
Torticollis (stiff neck with head turned to one side)
Plagiocephaly (irregular shaped head)
Complications from prematurity such as Bronchopulmunary Dysplasia, Gastro-esophageal Reflux, Interventricular Hemorrhage and Hydrocephalus
Spina Bifida/Myelomeningocele
Cerebral Palsy
Arthrogryposis (stiff joints)
Genetic Syndromes
Injuries and illnesses affecting development
*References:
Parent magazines and baby books
"Building Blocks", resource from Children's of Alabama Patient Health and Safety Information, 1-866-800-7259.