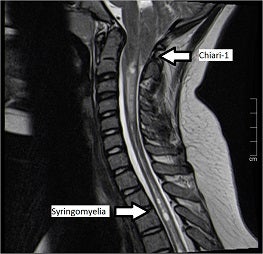 The Chiari malformations are structural abnormalities in the posterior part of the head wherein a portion of the cerebellum extends beyond the normal space available and protrudes into and through the large opening at the base of the skull called the foramen magnum. Syringomyelia is a spinal cord abnormality frequently seen in association with Chiari malformations, characterized by the presence of fluid-filled cavities within the cord.
Children's of Alabama remains at the forefront of clinical care and research into Chiari malformation and associated pathology, continuing the work begun here by Dr. W. Jerry Oakes and Dr. R. Shane Tubbs. Both are widely recognized world authorities in the diagnosis, anatomy, pathophysiology, and treatment of the Chiari Malformations. Now retired from clinical practice, Dr. Oakes remains academically active in the department and holds the Dan Hendley Chair of Pediatrics and Neurosurgery. Drs. Oakes and Tubbs have published over 200 papers dealing just with the Chiari malformations and edited the definitive monograph "The Chiari Malformations" (2013-Springer).
Children's of Alabama was invited to participate in the Park-Reeves Initiative, the largest privately funded prospective multi-disciplinary study and registry of patients with Chiari-1 malformations. We have enrolled the largest number of patients in this important registry. A multidisciplinary clinic focused on Chiari-1 malformation diagnosis and management is offered monthly, staffed by Dr. Rozzelle and Dr. Leon S. Dure, MD; Chief of Child Neurology.
Conditions We Treat 
Chiari I malformation
Chiari II malformation
Hindbrain hernia
Syringomyelia
Craniocervical instability
---
Chiari
Phone: 205-638-9653
Location:
McWane Building
1600 7th Avenue South
Birmingham, AL 35233
Dearth Tower Ground Floor
Clinic 15
---
Articles
Inside Pediatrics Magazine: Renowned Neurosurgeon looks back on storied career