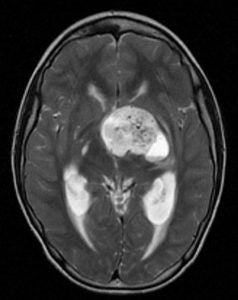 We have the largest pediatric brain tumor experience in Alabama and one of the largest experiences in the Southeast. Our surgeons have extensive experience in providing operative care for all types of pediatric brain tumors and have excellent success and outcomes consistent with our standing as a leader in pediatric neurosurgery. We emphasize cooperative multi-disciplinary team based care that utilizes both medical and surgical tools and options to optimize the care of every child we see with a brain tumor.
Children's of Alabama is equipped with state-of-the-art operating rooms that allow our team to provide safe, high-quality care. Furthermore, our entire OR team is focused solely on neurosurgical care for children, which allows us to provide a safe environment for the children in our care. Our operative suites at Children's of Alabama are equipped with the finest surgical equipment including:
Zeiss microscopes
Stealth and Brain Lab frameless navigation
flexible and rigid endoscopy
ultrasonic aspirators
microsurgical instrument
NICO endoscopic aspirators
Yag and CO2 lasers
Visualase laser ablation
ROSA Robot
We are actively involved in research to improve treatment options for pediatric brain tumors. This includes providing appropriate patients access to clinical studies and trials coordinated by the National Institutes of Health (NIH), the Pediatric Oncology Group (POG) and the Children's Oncology Group (COG). Our team members stay up-to-date on medical knowledge, publish in peer reviewed medical literature, and speak at national meetings and other centers of excellence.
Articles
Inside Pediatric Magazine Article: Laser surgery proves effective for some epilepsy patients