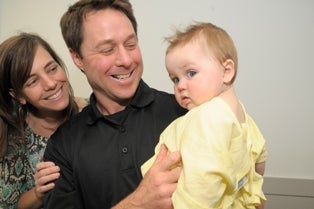 Thomas Summers with his parents.
Thomas Summers
Our story began on March 9, 2010 when our seemingly perfect son, Thomas, was born. All was great in our household with two siblings at home waiting to greet Thomas with hugs and kisses galore! Yet at Thomas' one month check-up with his pediatrician, we brought up our concerns regarding erratic movements we had been noticing for a couple of weeks. After witnessing one of these "spasms" herself, Thomas' pediatrician ordered an EEG to be performed at Children's Hospital. This is the point in which our family's life was turned upside down. As we were led back to the EEG room and saw all the medical staff crowded in Thomas' room, we knew something was very wrong. Thomas' EEG results showed constant erratic activity in his left cerebral hemisphere.
He was given high doses of anti-seizure meds and admitted to the Special Care Unit for close observation as further tests were ordered. It was at this point that we began to meet various doctors, nurses, techs, etc. and realized how special they are and how much they honestly care for each and every family they meet. Our son ended up having a functional hemispherectomy, which disconnected the left side of his brain, on April 29, 2010 by Dr. Jeffrey Blount. This radical and risky surgery took Dr. Blount and his team eight long hours to complete, but had a very successful outcome. We are so fortunate to have such highly trained and experienced surgeons, physicians and nurses in our own backyard here at Children's Hospital. We actually looked at taking Thomas elsewhere for this very scary surgery and it did not take us long to realize that we have the very best of the best right here in Birmingham. It was after surgery that the doctors really began to look at what caused Thomas' brain to have these malformations. After consultations between neurologists and genetistics, it was suspected that Thomas suffered from a condition called Tuberous Sclerosis (TS), a rare genetic disorder that can affect various organs of the body, including the brain. (Genetic testing further confirmed this suspicion.)
Although he still faces many challenges ahead, Thomas is now a happy ten month old baby boy who is progressing wonderfully and loves life. He continues to amaze us, his therapists and the staff at Children's Hospital with his progress. We are forever grateful to the entire staff at Children's Hospital for their loving and competent care of our entire family. As we continue our occasional follow-up visits with Dr. Monisha Goyal, Thomas' neurologist, we consider ourselves blessed to have such skilled and caring professionals attending to our son, and we are confident that his care is second to none here at Children's Hospital.