As a quality improvement initiative, the Pediatric and Congenital Heart Center at Children's of Alabama carefully records all clinical outcomes after pediatric heart surgery, including survival. Survival rates reflect the percent of patients who survived until hospital discharge. Tracking these outcomes enables us to identify potential areas for improvement as well as to address frequently asked questions from families. Our outcomes are compared to 111 pediatric cardiac surgery centers in the United States and Canada through the Society of Thoracic Surgeons (STS) registry. The overall survival in our program is greater than 96%, which is the same as the STS registry survival rate.
The team at Children's of Alabama and University of Alabama at Birmingham performs about 400 pediatric and adult congenital cardiac surgeries per year. A comprehensive spectrum of cases are performed in all age groups, including open heart and closed heart surgeries, "hybrid" cases (combined heart catheterization and surgery), heart transplants, ventricular assist devices (artificial hearts) and extracorporeal membrane oxygenation (ECMO).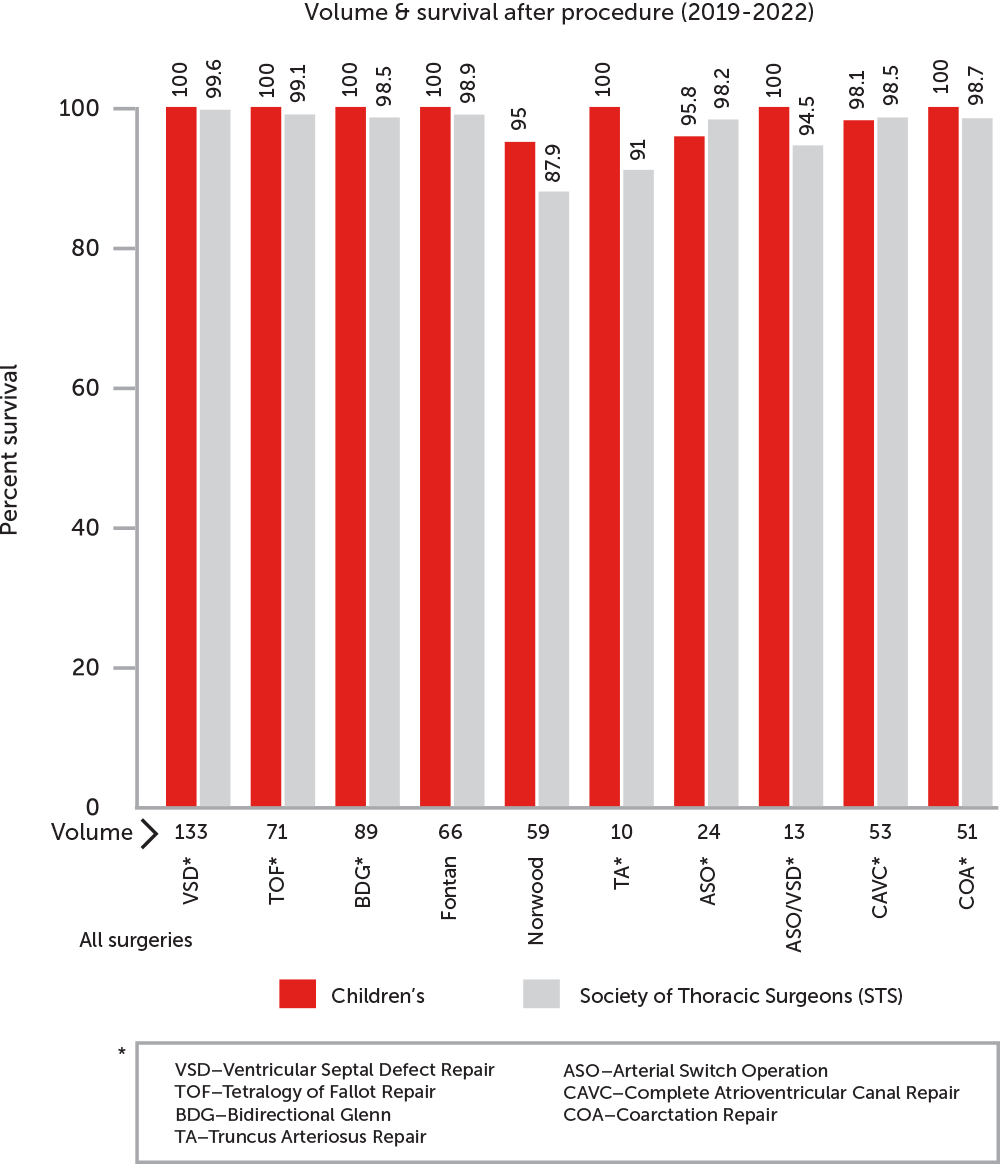 Our surgical volume is diverse and ranges from relatively low risk operations to very complex cases. Operations are classified by STAT Categories developed by STS and EACTS. Operations are categorized by complexity of the procedure from 1 (low risk) to 5 (high risk). STAT Category 1 includes cases such as atrial septal defect repair (ASD) and ventricular septal defect repair (VSD). Tetralogy of Fallot repair is STAT Category 2 . Complete AV Canal and the arterial switch operation is STAT Category 3, while arterial switch operation with VSD repair is STAT Category 4. The most complex case, the Norwood procedure, is STAT Category 5.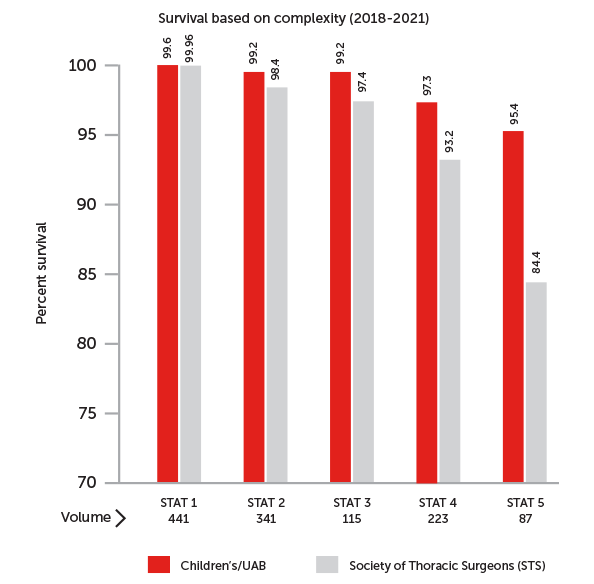 ---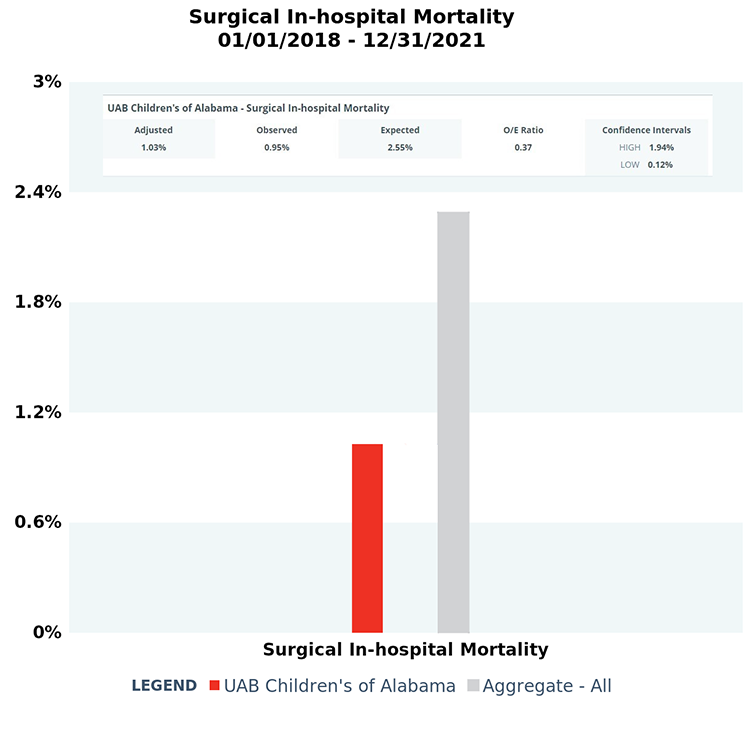 ---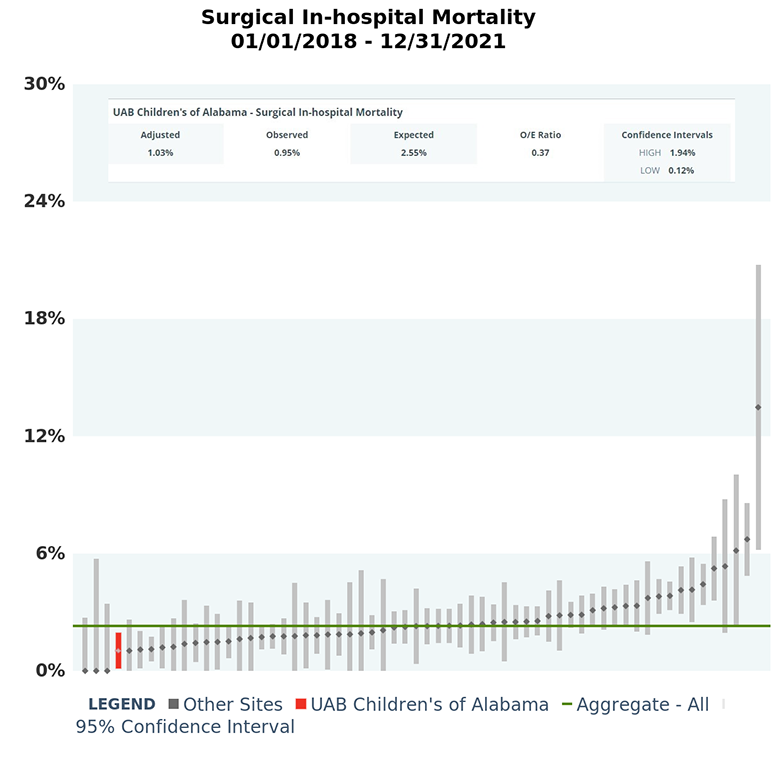 Beginning in 1981 at UAB and continuing at Children's of Alabama (COA) since 2013, our Advanced Heart Failure and Transplant Team has performed 193 pediatric heart transplants. This includes 19 transplants in the past 3 years and 7 in the past year. The excellent survival of our heart transplant recipients is above national average as reported by the Scientific Registry of Transplant Recipients (SRTR). We also feature a robust ventricular assist device (VAD) program. In the last 5 years 17 children have received cardiac support on Berlin heart, HeartWare, HeartMate 3, and CentriMag/PediMag devices. Our state of the art ECMO program provides cardiac support for children with failing hearts until their own heart recovers, they receive a VAD, or they undergo transplantation. With a 70% survival to discharge for cardiac ECMO compared to a national average of 52%, our program is recognized as an ECMO Center of Excellence by the Extracorporeal Life Support Organization."