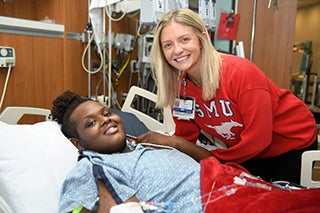 Nurses in the Cardiac Center at Children's of Alabama offer specialized nursing care to the most critically challenging population of children from age of birth to 18 years with acquired and congenital heart disease. This program includes the management of children undergoing complex heart surgeries as well as long standing specialty programs in the management of Heart Failure, Heart Transplants and Ventricular Assist Devices.
Multidisciplinary teamwork is of upmost priority to provide the highest quality, family-centered care. The nurses are involved in research and clinical innovation that translates into improved patient outcomes and safety. There are abundant opportunities for specialized growth to enrich your practice.
The Cardiovascular Intensive Care Unit (CVICU) is a 20-bed state of the art intensive care unit with 4 dedicated ECMO suites all equipped with full amenities for rooming in for the family.
The staffing ratio is 1:1 or 1:2 depending on patient acuity.
There is an individualized orientation varying with clinical experience, but on average the range is 5 months.
Clinical judgment by the RN is highly valued and recognized by implementation of nurse-driven protocols including:
Enteral Feeding
Peritoneal Dialysis Management
Chylothorax
Ventilator Weaning
Blood Replacement for Excessive Bleeding
Resuscitation Action Plans
Potassium Replacement
Post Operative Care following Norwood Procedure
More than 130 specially trained pediatric cardiac nurses practice at Children's of Alabama. They are an integral part of a collaborative interdisciplinary team that includes:
Cardiac Surgeons
Intensivists
Cardiologists
Nurse Practitioners
Staff Members in CVICU
Staff Members in CCU
---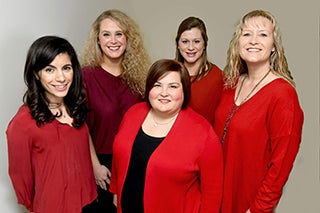 CV Nursing Leadership
Laura Needham, MSHA, BSN, RN, CENP
Division Director, Inpatient Nursing Services
Kaci Caradine, BSN, RN, CNML
Director of Nursing, CVICU
Heather Williams, BSN, RN, CNML
Director of Nursing, CCU
Maria McAtee, MSN, PNP-AC/PC
Advanced Nurse Educator, Cardiovascular Services
Chelsea Parker, BSN, RN
Nurse Unit Educator, CV Services
---
CV Clinical Leadership

Katie Dukes, BSN, RN, CCRN
CVICU Clinical Coach

 
---
Here's what some of our nurses say about working in CVICU...
"I love working in the CVICU due to the unique patient population. The fragility of every child on our unit requires each team member to have exceptional communication between one another as well as with the families. I thoroughly enjoy the never ending education process amongst staff, between providers and with the families through multiple sets of bedside rounds throughout the day."
Courtney Moore
"Working in the CVICU never feels like work to me. Our dedicated team of doctors, nurse practitioners, nurses and respiratory therapists works effortlessly together creating a family environment. Taking care of such fragile patients with this extraordinary team makes me extremely proud to call CVICU my home."
Joshua McCrary