Cardiovascular Intensive Care Unit (CVICU)
---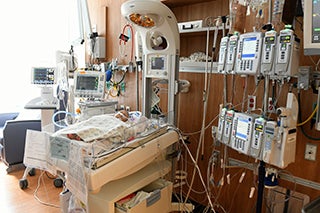 At the Children's of Alabama Heart Center, our 20-bed Cardiovascular Intensive Care Unit (CVICU) cares for children in need of specialized care for their cardiac condition.
Our multidisciplinary team includes cardiovascular intensivists trained in pediatric cardiology, pediatric critical care and neonatology. They work alongside our cardiac surgeons and together with a team of highly specialized nurses, respiratory therapists, and nurse practitioners to provide the best care for our patients.
Research and Quality Initiative (QI) projects are an integral part of delivering expert care to our patients in the CVICU. Our Clinical Guidelines have led to improved outcomes as highlighted below.
We understand that children requiring cardiac critical care can be a highly stressful time for both patients and their families. We are committed to providing our patients with the best care possible from our expert team of pediatric subspecialists.
---
Highlights of the CVICU
Medical team that includes:
9 Board Certified Physicians specializing in pediatric cardiac critical care, including a CV-trained neonatologist
11 nurse practitioners with specialized cardiac training
20 private rooms with 4 dedicated CV-ECMO suites all equipped with full amenities for rooming in of family
Dedicated CV satellite lab and blood bank adjacent to CVICU
Centralized telemetry specialists located within unit
CV Operating Rooms, CV Pre and Post Anesthesia Recovery Unit, Cath/EP labs all located on same level
---
Research
Busy Clinical and Translational Research Program

5 clinical trials currently underway

Robust Pediatric Cardiac Bio-Repository

Samples banked from majority of surgical patients for future research

Discovery of new therapies and diagnostic tools
Participation in Institutional and Multi-center Collaborative efforts
---
Safety and Quality
Strong Multidisciplinary Quality Improvement (QI) team has led to improved clinical outcomes and policy changes
Highlights of Accomplishments in last 2 years

Presentations at scientific conferences
Publications in peer review journals
50% reduction in time on ventilator
51% decrease in peri-operative blood product exposure
89% decreased exposure to IV Potassium boluses
6 day decrease in length of stay utilizing comprehensive feeding protocol
76% decrease in blood sampling on ECMO

PC4 - Participation in multi-institutional QI consortium