Past Participant Comments
---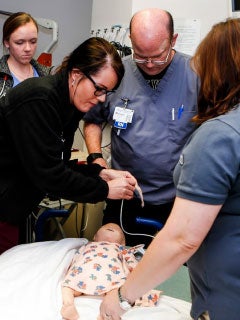 "RNs, LPNs, RTs, PCAs, students, MDs, and CRNPs were lucky enough to take part in the simulations. Each and every one of those that participated raved about the process! When 5 ED MDs stayed for more than 2 hours I knew we had a home run! They were so excited and asked numerous questions!"
"The environment was non-threatening, challenging, and extremely beneficial."
"Receiving CEUs was an added bonus."
"The unfamiliar environment of a simulation lab was replaced with the familiar environment of our own Departments."
"The COACHES Program is an amazing way to gage how prepared our departments are in caring for the sick or injured pediatric patient, in a non-threatening non-judgmental atmosphere."
"The Program is of high quality and educational value."
"They facilitate the simulations in a manner that invites learning."
"This program also assists in developing relationships amongst the interdepartmental team."
"Our facilities often transfer patients to Children's of Alabama. We now have faces to put with the voices on the other end of the call to transfer as well as trusted resources for consults and advice."
---
Need more information? You can reach us at 205-638-6669 or COACHES@childrensal.org.