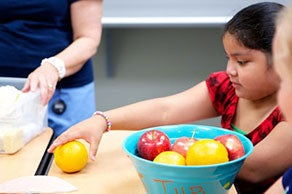 Healthy Tips For Success
Document Everything including diet and activity
Increase Fruits and Vegetables
Replace breads, rice, and pastas with 100% whole grains
When preparing meals choose lean meats and bake, broil, or grill them. REMOVE ALL SKIN
Reduce fast-food/eating out and prepare home cooked meals
Replace sugary drinks with no calorie drinks
Increase WATER
Drink either skim milk or 1% milk
Eat more fruit instead of drinking juice
Get MOVING and REDUCE screen time. Be ACTIVE EVERYDAY!
Why is sugar so harmful?
Sugar can impair your immune system. Eating 100 grams of simple carbohydrates (like cookies, a large piece of cake, or a few donuts) can reduce the ability of white blood cells by 50 percent for a few hours.
Sugar is addictive. Many people find it impossible to stop eating sugar. Eating lots of sugar may deplete the zinc in your body, which can dull your sense of taste.
Sugar is linked to behavioral disorders. There is a strong link between excessive sugar intake and attention-deficit hyperactivity disorder (ADHD).
Sugar can lead to osteoporosis. Sugar creates an acidic environment in your tissues, which causes your body to cry out for alkaline foods. If you don't get enough calcium in your diet, your body may pull it from your bones and teeth and you may develop bone loss.
Sugar can lead to type 2 diabetes and elevated cholesterol.
Sugar leads to obesity.
---
Recipe-Sweet-and-Sour Chicken
1bag (12 oz) frozen vegetable stir-fry
1 Tbsp peanut oil or vegetable oil
1 Tbsp ginger minced
1 Tbsp garlic, minced (about 2-3 cloves)
1 Tbsp scallions (green onions), rinsed and minced
2 Tbsp rice vinegar
1 Tbsp Asian hot chili sauce
2 Tbsp brown sugar
1 Tbsp corn starch
1 C low-sodium chicken broth
12 oz boneless, skinless chicken breast, cut into strips
1 Tbsp light soy sauce
Thaw frozen vegetables in the microwave (or place entire bag in a bowl of hot water for about 10 minutes). Set aside until step 6.
Heat oil in large wok or sauté pan over medium heat. Add ginger, garlic, and scallions, and stir fry until cooked, but not browned, about 2-3 minutes.
Add the rice vinegar, chili sauce, and brown sugar to the pan, and bring to a simmer.
In a bowl, mix cornstarch with chicken broth, and add to the pan. Bring to a boil over high heat, stirring constantly. Lower heat to a gentle simmer.
Add chicken, and stir continually for 5-8 minutes.
Add vegetables, and mix gently. Simmer with lid on to reheat, about 2 minutes.
Add soy sauce, and mix gently.
Divide into four even portions, and serve.
Serve with a side of steamed brown rice.
Serving size: 3 oz chicken, 1 C vegetable; calories: 221; total fat: 6g; carbohydrates 21g
---
Additional Recipes & Resources
Thanksgiving Menu
Keep the Beat Cookbook- Heart Healthy Recipes from the National Heart, Lung and Blood Institute
Keep the Beat Cookbook (revised)
National Nutrition Month 2009 Recipes
Aim for a Healthy Weight
Take Charge for Teens
National Heart, Lung, and Blood Institute
Books
Ending the Food Fight, by David Ludwig, M.D., Ph.D.
Eat This, Not that for Kids
American Dietetic Association Cooking Healthy Across America
American Dietetic Association Complete Food and Nutrition Guide, 4th Edition
The New Family Cookbook for People with Diabetes
Magazines
Eating Well
Health