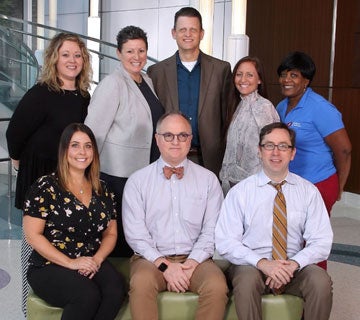 Front row (L-R): Emily Gantz, Leon Dure, Harrison Walker
Back row (L-R): Karmen Mitchell, Jan Rowe,
Deek Cunningham, Kayla Richards, Valerie Terrell
Jan Rowe, Dr. OT, OTR/L, FAOTA, earned her doctorate from NOVA Southeastern University in Ft. Lauderdale, FL., in 2004 and has been working exclusively with Tourette syndrome (TS) and tic disorders patients since 2010. She started the Pediatric Tourette Syndrome and Tic Disorder Clinic at UAB in January of 2010; the program is now offered through the Children's of Alabama Physical and Occupational Therapy Department at Park Place as the CBIT (Comprehensive Behavioral Intervention for Tics) Clinic. The first occupational therapist to coordinate a comprehensive behavioral intervention program for tic disorders, Dr. Rowe now trains occupational therapists throughout the country to work with children who have Tourette syndrome or tic disorders. In addition, she serves on the Medical Advisory Board for the Tourette Syndrome Association.
Leon S. Dure, MD, Division Director for Pediatric Neurology at Children's of Alabama, has been on the UAB staff since 1994 and has a strong clinical interest in movement disorders affecting children. The Pediatric Movement Disorders Clinic at Children's, the first of its kind in the South, addresses a variety of conditions—the most common being tic disorders such as Tourette syndrome. (CBIT is a service of the Pediatric Movement Disorders Clinic.) Dr. Dure served on the Tourette Syndrome Association Medical Advisory Board (1997–2013) and has participated as an investigator in a number of observational and intervention trials in TS.
Emily Gantz, DO, Assistant Professor in Pediatric Neurology at  Children's of Alabama, she is a board certified child neurologist who completed her residency at Vanderbilt University and her movement disorders fellowship at UAB. She is now a subspecialist in pediatric movement disorders, including tic disorders such as Tourette syndrome.
Karmen Mitchell, MS, OTR/L, earned her Bachelor of Science degree with a certificate in occupational therapy from the University of Alabama at Birmingham in 1998. In 2012, she completed her post-professional Master of Science in the Occupational Therapy program at UAB as well. Karmen spent the early part of her career practicing in acute care, home health and skilled nursing facilities. Karmen has spent the last 17 years working as a school-based occupational therapist. She has also worked as a flexipool O.T. for Children's of Alabama in inpatient rehabilitation since 2009.
In late 2009, Karmen attended a CBIT training by Dr. Douglas Woods at the University of Alabama at Birmingham. In early 2011, Karmen began in the CBIT clinic established and directed by Dr. Jan Rowe and has continued to work closely with Dr. Rowe since that time, as a research assistant and as a qualified CBIT provider.  Karmen provides services one afternoon each week in the CBIT Clinic at COA.
Kayla Richards, OTRL, earned her master's degree from the University of Mississippi Medical Center in Jackson, Mississippi in 2012. After working as a traveling occupational therapist in both Florida and California in a variety of populations, she and her husband moved to Birmingham, AL in October of 2016. She is currently working at Children's on 3rd where she provides services to children with autism, sensory processing disorders, and feeding difficulties. She was trained under Dr. Douglas Woods and Dr. Jan Rowe to work with children who have tic disorders, including Tourette syndrome. Kayla has been training at the CBIT program at Children's, Park Place since March 2017. She is now a qualified CBIT Provider and provides services one day a week at Children's CBIT clinic.
Valerie Terrell, Office Assistant, is the first person you will meet when arriving at the CBIT clinic at Children's. Valerie is extremely knowledgeable about insurance payments for CBIT and can assist you with needed information to discuss with your insurance company prior to the evaluation. She can also assist with establishing private pay status if that is needed. She can be reached at the above 'clinic' number.
---
Tourette Syndrome Center of Excellence (COfE) – Children's of Alabama and University of Alabama at Birmingham (COA/UAB)
In 2015 Children's of Alabama and the University of Alabama at Birmingham were designated as a Center of Excellence by the Tourette Association of America. In July of 2019 this designation was renewed. The COA/UAB COfE strives to provide the best patient and family services (CBIT), participate in the TS community and engage in clinical research to improve the lives of those living with TS.
Since that renewal the TS COfE at COA/UAB has started an adult CBIT program. This program is coordinated by Deek Cunningham, MS OT, OTR/L and is in the School of Health Professions.  Deek has been providing CBIT since 2012. Deek can be contacted at the following email address: adultcbit@uab.edu
Harrison Walker, MD, Associate Professor/ UAB, Medical Director of Deep Brain Stimulation