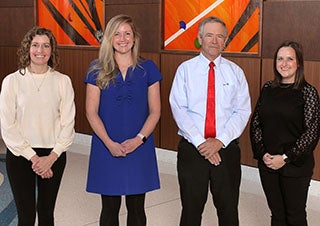 Board-certified subspecialists in the Division of Pediatric Allergy, Asthma and Immunology specialize in the diagnosis and treatment of children with allergic and immunologic diseases. Allergic disorders diagnosed and treated by division physicians include allergic rhinoconjunctivitis (hay fever), allergic and nonallergic asthma, urticaria (hives), angioedema (swelling disorders), atopic dermatitis (eczema) and allergies to foods, stinging insects and medications. Division physicians also specialize in the diagnosis and treatment of hereditary immune deficiencies (Primary Immune Deficiencies).
We are Alabama's only all-pediatric allergy group.
Our main campus clinic is located in Children's Park Place with free, convenient parking.
Allergy, Asthma and Immunology Phone Numbers:
Appointments: 205-638-6993
Office: 205-638-9072
Fax: 205-638-2833
Division contact:
Kim Jerkins, Administrative Supervisor
kjerkins@peds.uab.edu
---
Our Team
T. Prescott Atkinson, MD, PhD
Director, Division of Pediatric Allergy, Asthma & Immunology
---
Patient Information/What to Expect
Scheduling a First Appointment
A physician's referral is required to see a UAB pediatric specialist at Children's of Alabama or UAB. The physician can be your family doctor or another specialist who has recommended that you see a Specialist. The physician will schedule your first appointment for you.
What to Bring, Or Have Sent, Prior to Your First Visit
Once you have been given an appointment to come to one of our clinics, it will be our pleasure to provide you with the best consultation possible. However, in order for us to do this, we must have all pertinent information about your medical history. In general, the following items are of extreme importance in our ability to render an opinion about your case:
Hospitalization records pertinent to the condition that brings you for consultation.
Reports of tests performed in relation to the condition that brings you for consultation.
Films (x-ray pictures) of all tests performed in relationship to your condition, including CAT scans, MRI scans, angiograms, EKG, EEG, and ultrasounds.
Your referring physician's outpatient medical records.
What to Expect
As a reminder, our front-desk staff will be verifying our record information and may ask to see your insurance card. If your insurance requires a physician referral and/or precertification, the front-desk clerk will need this information. You must be able to provide it at the time of your appointment. If there is not a current referral and/or precertification, you will be responsible for your bill. You can confirm with your referring physician or your insurance company that appropriate referrals have been completed. Co-payments will be collected at our checkout desk.
We hope to provide you with the best specialty outpatient services possible, and we hope that this information helps facilitate such care. We look forward to seeing you in clinic. If you have any questions, please call your referring physician.