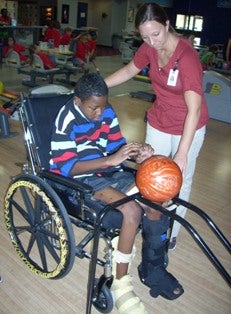 The Day Treatment Program at Children's of Alabama is an outpatient program designed for children who are recovering from a neurological illness or injury or who have a disability resulting in their inability to perform tasks of daily living independently. The program offers the intensity of inpatient rehabilitation without overnight hospitalization. Therapies are scheduled Monday through Friday. Sometimes children are referred directly to Day Treatment after their inpatient rehabilitation to serve as a step-down program to outpatient therapy. Other times, the physician may recommend Day Treatment months after hospital discharge if intensive therapy is in the best interest of the child.
FOR ADMISSION INTO THE PROGRAM, YOUR CHILD:
Must have a diagnosed neurological, orthopedic or respiratory disorder which limits age appropriate functioning
Must require two or more of the following services: education, occupational therapy, physical therapy, speech therapy, therapeutic recreation
Must need a minimum of 15 hours of therapy/services per week
Must be at least two years old
Must be medically stable
Must maintain a state of alertness that will facilitate participation
Must have a family member involved in his/her care and treatment
Does not require IV therapy, tube feeds or advanced wound care during treatment sessions
PARENT RESPONSIBILITES:
While your child is enrolled in the Day Treatment Program, you are responsible for the following:
Administering all medications, prescribed and over-the-counter, during program hours
Bringing and picking up your child on time each day
Notifying the Day Treatment Coordinator if you will be late
Providing a phone number where you can be reached during your child's therapy times
Providing your child's lunch and personal care supplies
DISCHARGE:
Your child will be discharged from the Day Treatment Program when one of the following criteria has been met:
The maximum benefit of rehabilitation treatment has been reached
Your child no longer needs the intensity of therapy offered
Your child has made no significant progress for five days
You or your child refuse treatment
You or your child are non-compliant with the program rules or treatment
To find out more about Day Treatment, call 205-638-6997.