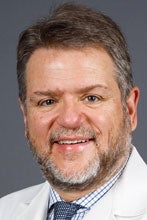 Jeffrey P. Blount, MD, MPH, FAANS
Neurosurgery
About Me
Division Director, Chief of Pediatric Neurosurgery
Dr. Blount participates in the full spectrum of pediatric neurosurgery but has particular academic interest in the surgical treatment of epilepsy in children, spina bifida, transitional care in spina bifida and public health issues in pediatric neurosurgery.
Dr. Blount joined the faculty at UAB in 2000. He is board certified by the American Board of Neurological Surgery and the American Board of Pediatric Neurological Surgery. He is a fellow of the American College of Surgeons, the American Academy of Pediatrics and is a member of the American Society of Pediatric Neurosurgery. He has authored more than 100 papers on various topics in pediatric neurosurgery and presents regularly at national and international conferences on pediatric epilepsy surgery and pediatric neurosurgery. He has been visiting professor at 4 institutions and is frequently invited to chair or coordinate panel discussions or courses.
Dr. Blount was born in Ann Arbor, Michigan and grew up in the Capital District of New York. He attended Washington and Lee University for undergraduate studies and the University of Rochester (New York) for medical school. Dr. Blount completed the Neurosurgery residency program at the University of Minnesota and then spent three years doing general and pediatric neurosurgery in the US Navy at Naval Medical Center San Diego. Additional studies were pursued at the National Hospital for Neurology and Neurosurgery at Queen Square, London during medical school and residency. He then completed the fellowship in Pediatric Neurosurgery at the Hospital for Sick Children in Toronto, Ontario, Canada.
Education
Residency:
University of Minnesota
Medical School:
University of Rochester School of Medicine
Fellowship:
Hospital for Sick Children, University of Toronto
Division Director, Chief of Pediatric Neurosurgery
Additional Resources