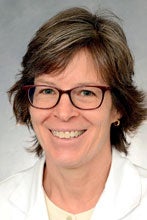 Elizabeth A. Beierle, MD
Pediatric General Surgery
About Me
Charles D. McCrary Chair in Pediatric Surgery
Professor of Surgery and Pediatrics, Surgical Director, Hepatobiliary Clinic
Education
Residency:
University of Florida , General Surgery
Medical School:
University of North Dakota
Fellowship:
St. Christopher's Hospital for Children, Philadelphia, PA , pediatric surgery
Internship:
Baylor College of Medicine
UnderGraduate:
University of North Dakota
Board Certifications
American Board of Surgery (1970)
American Board of Surgery - Pediatric Surgery (1970)
Honors and Awards
Women Who Shape the State (2016), Top Doctors in Birmingham (2015-2017)
Special Interests
Dr. Bierle is an Associate Professor of Surgery Patient Care Emphasis: Pediatric surgical oncology, neonatal surgery, burn and trauma care Research: Dr. Beierle's research interest lies in the study of pediatric solid tumors, specifically the signal transduction pathways involved in neuroblastoma.
Interests
pediatric surgical oncology
Professional Organizations
FACS, FAAP, APSA, SUS, Southern Surgical, American Surgical
Publications
1. Regulates focal adhesion kinase expression in human neuroblastoma. J Biol Chem, 282:125 2. 53. Beierle EA, Ma X, Stewart J, Nyberg C, Trujillo A, Cance WG, Golubovskaya VM. Inhibition of focal adhesion kinase decreases tumor growth in human neuroblastoma. Cell Cycle, 9: 1005-15, 2010. 3. 66. Gillory LA, Megison ML, Stewart JE, Mroczek-Musulman E, Nabers HC, Waters AM, Kelly V, Coleman JM, Markert JM, Gillespie GY, Friedman GK, Beierle EA. Preclinical evaluation of engineered oncolytic herpes simplex virus for the treatment of neuroblastoma. PLOS ONE, 8:e77753, 1-19, 2013. 4. Waters AM, Stewart JE, Atigadda VR, Mroczek-Musulman E, Muccio DD, Grubbs CJ, Beierle EA. Pre-clinical evaluation of a novel RXR agonist for the treatment of neuroblastoma. Molec Cancer Ther, 14:1559-1569, 2015. 5. Waters AM, Stafman LL, Garner EF, Mruthyunjayappa S, Stewart JE, Mroczek-Musulman E, Beierle EA. Targeting focal adhesion kinase suppresses the malignant phenotype in rhabdomyosarcoma cells. Trans Oncol, 9:263-272, 2016.