spina bifida; international adoption
October 18, 2021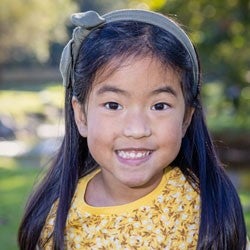 In 2009, Rebecca and Josh Winslett were ready to start their family. Because of fertility challenges, the couple began to consider adoption. Much to their surprise, son Levi was born in 2011, and son Luke was born in 2014. However, Rebecca and Josh knew their family wasn't yet complete.
"God had put it on our heart to adopt," Rebecca said. After a lot of prayer and research, the Winsletts filed their adoption application in July 2018.
"China has always been on our minds. When we got started, we were told that the international adoption process could take about two years, but we got the call that we had matched with a child only 10 months in," Rebecca said.
That call came in May 2019. There was a little girl in China. Her name was Maggie, and she had just turned two.
Enter the Adoption Clinic at Children's of Alabama. The Adoption Clinic has been helping families like the Winsletts with international and domestic adoptions since 2002. The team of physicians, developmental specialists, social workers and clinical assistants provide medical evaluations, developmental assessments and therapy assessments. Many of the staff have adopted children of their own and can share unique insight with families at every stage of the adoption process.
Dr. Jennifer Chambers, pediatrician and founder of the Adoption Clinic, reviewed Maggie's medical history that was provided by the Chinese adoption agency once the Winsletts were matched. The files that typically accompany an international adoption may not always be complete, and the contents may not be well translated to English. Rebecca said adoptive families are always told to "expect the unexpected."
"Dr. Chambers reviewed Maggie's medical file with us. As an adoptive parent herself, her passion for helping families is evident. She gave us great insight into Maggie's history," Rebecca said. "The medical evaluation is an extra piece of information that gives you peace of mind."
China categorizes children who are ready for adoption as either special needs or special focus. Children in the special focus category have more severe health conditions, although as Rebecca noted, individual families will have different perspectives on what they consider to be severe. "Families have to ask themselves, 'Is this something we think we can handle?'" she said. Maggie was considered special focus. She was diagnosed with spina bifida and already had a surgery in China when she was just four months old.
"We knew she would have mobility issues, but we were comfortable with that," she said. "We have access to some of the greatest doctors and specialists right here in our own community at Children's." Rebecca said her own training as a nurse and her husband's training as a social worker and pastor made them feel like they were equipped for any potential challenges.
Once in China to meet Maggie, Rebecca said Dr. Chambers was a lifeline for them back in the United States. "She was available to answer all of our questions. She was an all-encompassing resource and was always so quick to reply to us."
When they arrived home with Maggie in September 2019, they had several follow up appointments at the Adoption Clinic. The purpose of these visits, which often included bloodwork and X-rays, is for doctors to verify that the child's medical files were accurate. Rebecca said Maggie may have had one additional spina bifida-related surgery in China that wasn't documented in her file since they discovered some undocumented scarring. Since arriving in Alabama, Maggie has had four surgeries at Children's – one in ENT, two in orthopedics and one in neurosurgery.
The staff at the Adoption Clinic helped the family adapt following Maggie's arrival. "Post adoption, they continue to be a fantastic resource for us," Rebecca said. "They can help families learn if their child is exhibiting normal childhood behavior, or if the behavior is the result of some unknown past trauma."
Rebecca said her oldest son Levi already had experience as a big brother and took to his new little sister quickly. Younger son Luke then became the middle child and was a bit slower to come around. "A child who joins your family through adoption requires a lot of attention, just like a newborn baby would," Rebecca said. "It was challenging at first, but all three have settled in like a traditional sibling group."
Maggie has since transitioned to various subspecialists at Children's for her spina bifida needs. But the Adoption Clinic team will always be a special part of her care. "The staff has been great at offering advice, 'let's try this,' then they follow up, 'let's adjust this," Rebecca said. "Having someone like Dr. Chambers who's 'been there, done that' has been huge."