Sickle Cell Anemia Hemoglobin SS
August 8, 2021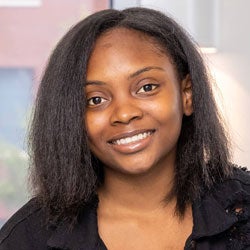 Arielle McFarland is an active 19-year-old from Vestavia Hills who has a severe blood disorder called sickle cell anemia hemoglobin SS. She enjoys painting, attends Lawson State Community College, and is a Mary Kay Beauty Consultant.
Sickle cell anemia is an inherited gene from both parents. Sickle cells are abnormally-shaped red blood cells that can stick to blood vessel walls causing blockage and preventing the cells from carrying oxygen through the body. When this happens, it causes a pain crisis.  
Arielle was diagnosed with the disease by a screening at birth. "Her father and I knew we had the sickle cell gene, and there was a one-in-four chance for each pregnancy that our child could be born with it," said Arielle's mother Sophia McFarland, who is the Interim Director for the Sickle Cell Foundation in Birmingham.
Arielle was six months old when she had her first pain crisis. "She developed dactylitis, which causes swelling of the hands, and is very painful," said Sophia. Arielle was treated at Children's of Alabama, which would be the first of many hospital visits to come.
Severe complications with the disease began for Arielle when she was five years old. She developed gallstones and had surgery to remove her gallbladder. She went into a pain crisis and stayed in the hospital for over a month. Moving forward, her pain crises seemed to be fairly controlled.
When Arielle was seven years old, medical tests revealed she had a high amount of sickle cells causing blood flow blockage to the brain that put her at risk for a stroke. The doctors determined she needed monthly blood transfusions to reduce the number of abnormal cells in her body. The transfusions helped her condition until she contracted an infection that attacked the bone marrow and stopped her body from producing red blood cells. The doctors treated her with Hydroxyurea, a medication that helps cells to less likely turn into the sickle shape.  
At 14 years old, Arielle developed acute chest syndrome, which is when abnormal cells block blood flow to the lungs and reduce oxygen levels. She was treated with monthly blood transfusions for six months to manage her serious illness.
Following the treatments, Arielle discovered that she was having a pain crisis each month attributed to her menstrual cycle. To help minimize these episodes, she had two central lines, similar to intravenous lines or IVs, placed in her chest. Simultaneously, one is used to receive a red blood cell exchange therapy that helps replace abnormal red blood cells with healthy ones, while the other receives regular blood transfusions.  She initially handled the treatments well, but eventually her body reacted negatively to them.
"It has been difficult, but everyone at Children's has always been so sweet to us through all of this," said Sophia. "We have always had a very good relationship with everyone on the staff."
Arielle's condition continues to be high risk and complex, but she manages her disease well with medication and a monthly red blood cell exchange. "The disease is unpredictable, but she normally recognizes a pain crisis before it happens," said Sophia. "We call Children's ahead of time to let them know we are coming in, and they prepare for us," she said.  
As for Arielle's care at Children's, her mom said, "The support, the attention and information they have provided us has been invaluable. They are like family to us."