premature birth
December 28, 2021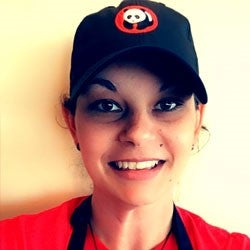 Rania Elalam
When customers of Huntsville-area Panda Express restaurants make generous in-store donations to benefit Children's Miracle Network Hospitals, it's cause for celebration no matter the amount.
"We get a really good response when we ask our customers to round up their bill or ask for an open-ended donation," said Panda Express associate Rania Elalam. "Whether it's $1 or $20, we ring a bell to celebrate."
Rania works as a certified cook at Panda Express in Athens. And those donations from customers are personal to her.
"I was born 3 months premature. I weighed 3 pounds, 2 ounces. My lungs were partially collapsed," Rania said. She was transported by ambulance from Decatur, where doctors weren't optimistic about her survival, to the Neonatal Intensive Care Unit (NICU) at Children's of Alabama. "They're the reason I'm here."
Children's of Alabama was among the first hospitals to join Children's Miracle Network Hospitals in 1983. Since then, more than $50 million has been donated to Children's of Alabama through CMNH. Every dollar raised locally through CMNH campaigns, signature events and programs goes directly to Children's to provide the health care possible to ill and injured children from across the state and Southeast by funding research, patient care and equipment.
CMNH is an alliance of 170 children's hospitals in North America that collectively treat more than 17 million sick and injured kids each year. CMNH creates strategic partnerships with businesses and organizations, like Panda Express, whose individual locations then raise money for their local children's hospital.
As a toddler, Rania would use a nebulizer to deliver medications to her lungs three times a day. She would return to Children's for checkups every few months. And by the time she reached kindergarten, she could run a mile and only had to visit Children's once a year.
As a Panda Express associate today, she can confidently tell her customers how much those donations to CMNH are appreciated. "It means everything to me," she said.