Manny Bussey
September 20, 2021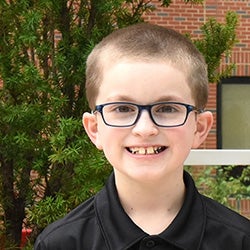 Tetralogy of Fallot, Autism
"He's just Manny," said mom Courtney. He enjoys playing with LEGO® and reading books from the "Dog Man" graphic novel series. And one day you just might see him as a competitor on the "American Ninja Warrior Junior" show. But being 'just Manny' is anything but ordinary.
When Manny was born in 2012, his skin was blue and he wasn't breathing. He spent the first few weeks of his life in his birth hospital's neonatal intensive care unit (NICU). Manny was diagnosed with Tetralogy of Fallot, a congenital heart defect that affects normal blood flow through the heart. He had his first heart surgery – complete repair of his heart – at just 3 months old. That was the first of several surgeries that are common for children born with this condition.
The family moved to Alabama in 2014 knowing that Manny's heart would need additional repairs as he grew older. 
That time came in July 2021, when cardiologist Mark Law, M.D., observed that Manny's pulmonary valve was due for a replacement. "It was no larger than a speck of dust on a wall," Courtney said. Cardiothoracic surgeon Robert Sorabella, M.D., performed the successful open-heart surgery at Children's of Alabama in August 2021, and Manny was discharged three days later.   
And being 'just Manny' is exactly what makes him so special. Manny was diagnosed with autism in 2015. At that time, he was a quiet kindergartner who rarely made eye contact with others but was incredibly smart, Courtney said. "We were very concerned about the upcoming heart surgery with Manny's autism," she said.
When the family arrived at Children's for his pre-op appointment, they met Noelle Connor, Child Life Specialist. "Noelle took the weight right off us," Courtney said. "She was like a breath of fresh air."
As a Child Life Specialist, Noelle is trained to help children cope with the stress of being in the hospital. She is also equipped to work with children who may need extra support through the hospital's Sensory Pathway. Children's introduced the Sensory Pathway in the Emergency Department in 2016. It has since expanded to several areas of the hospital including the Cardiac Intensive Care Unit (CVICU) where Manny recovered from his heart surgery. The goal of the Sensory Pathway is to provide a standardized way to help hospital providers recognize when a child is experiencing sensory sensitivity and how to respond appropriately to those needs.
"The hospital can be a scary place for anyone," Courtney said. "Noelle took the time to carefully explain to Manny what to expect when he returned to the hospital the next day for surgery. She showed him a book that explained step by step what would happen in a way that made sense to him." That book is part of the Sensory Pathway's Social Stories, a tool to help children understand upcoming procedures or events they may experience during the hospital stay.
The day of the surgery, Courtney said, reality hit for Manny. "He said to me, 'I'm scared,'" Courtney recalled. He reverted to a toddler mindset and cried, that is until Noelle appeared just as she promised him she would. "Manny hadn't smiled all morning until Noelle came in." She helped him pick out a scented lip balm to help ease the odor of the anesthesia mask and brought him a "Dog Man" book.
And as much as Noelle brought Manny comfort, she was there to support Courtney and her wife Chelsea as well. She met Courtney and Chelsea in the family waiting room to let them know when Manny's surgery was complete. "She encouraged us to take a break, go get lunch. She reminded us that we have to take care of ourselves in order to take care of Manny," Courtney said.
And when Manny transferred as planned to a step-down unit a few days later, Noelle was there too. She was notified before he had any tests or procedures so that she could be there with him. Chelsea said routine is crucial for Manny. "When Manny is overwhelmed, he becomes timid, shy and doesn't communicate well," Chelsea said. Having a familiar presence like Noelle alongside him made things less stressful for him.
"And when Manny gets stressed, he may be loud or cry, and in certain places, we feel like we need to apologize to those around us," Chelsea said. "Noelle told us, 'there's no need for you to apologize here.'" Part of the Sensory Pathway is recognizing when a child is experiencing extreme stress.
"Going into this, we knew his sensory issues would be challenging. When we arrived at the hospital and met Noelle, all of that went completely out the door," Courtney said. "We couldn't imagine the hospital stay without her."