Lindy Morrison
March 9, 2022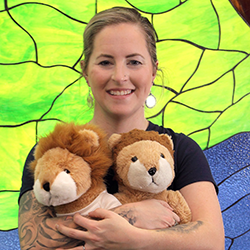 Brain Tumor
There once was a little girl named Lindy, and her family was unsure of what the future would hold. Now, 20 years later, Lindy Morrison is all grown up and even has a daughter of her own. She is currently a partner in a successful residential and commercial construction company operated out of Hoover, Ala., and is a student at Jefferson State Community College.
When Lindy was 11 years old, she began experiencing pounding headaches. Loud noises and bright light often triggered them, so her mother assumed she was suffering from severe migraines, which they tried treating with over-the-counter medication. One day after school, the pain was so excruciating, she passed out and woke up with a cold compress on her forehead. "My mom scheduled me for a doctor's appointment at Children's the very next day," Lindy said. Her parents knew it was time to do something.
The appointment started with a CT scan but not enough was revealed, so the next step was an MRI with contrast. When the results were reviewed, doctors discovered what was causing her headaches: a benign tumor the size of a golf ball steadily growing on her brain stem. "I was young and didn't understand the full magnitude at the time, so of course I was also scared. I had surgery the very next day," Lindy said.
"I remember when they wheeled in the gurney, somebody said, 'your chariot awaits princess.' They told my parents that they would need to stay behind and then someone tucked a stuffed lion under my arm," she recalled. When Lindy awoke after the three-hour surgery it was still there, and from then on, she decided to call him Dennis.
That lion – Simon the Loving Lion to be exact – is still beloved today by many Children's patients just like Lindy. In January 1999, the chaplains at Children's of Alabama began giving Simon to children admitted through the hospital's trauma service. Over time, and through the help of generous donors, Simon's work has expanded to include all patient care areas at Children's of Alabama.
"I remember that the lion made me feel safe," Lindy said. "He brought me so much comfort during my recovery, and I hope he can do the same for patients there today and in the future."
Lindy's brain tumor was non-cancerous, and her follow-up visits to Children's eventually ended.
Dennis has been by her side since her surgery in 2001, and he continues to remind her of her time in the hospital. "I hope that there will always be enough lions to go around at Children's. It's such a small thing, but so significant for kids. I remember how much love I felt when I was there and hope Simon can help other patients to feel safe and comforted during such an uncertain time."