kidney trauma
December 14, 2021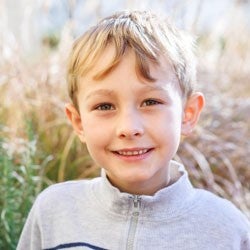 Major McLaughlin
Major McLaughlin is an avid bike rider, and on any given sunny day, you may find him pedaling around with his family in their Crestwood neighborhood. He got his start with a scooter around age 4 and transitioned directly to a bicycle without the need for training wheels.
Not long before his 7th birthday, Major and his dad Brady joined friends for a weekend camping trip at Oak Mountain State Park in Pelham. That Saturday – Oct. 2., 2021 – the group, all equipped with helmets, went for a ride on one of the park's bike trails.
Suddenly, the bike's tires slipped on some loose dirt, and Major fell to the ground. As he fell, the bike's handlebars twisted. However, the handlebars didn't impale him, nor were there any visible signs of trauma on his right side where he fell. He remained conscious the entire time.
Brady is no stranger to scenes like this. He has worked as a firefighter, a police officer and an EMT. At this moment, though, he was a father, and his son was in extreme pain.
"I carried him to my truck, and we sat in the air conditioning for a few minutes to cool off," Brady said. Once they arrived back at the campsite, Major threw up and turned lethargic. "I knew right away it wasn't because of something he ate," Brady said, so they headed home. Major told his dad that he needed to go to the hospital. "He's only said that one time before, when he broke a finger." Major's skin became jaundiced, and he threw up again. Brady and his wife Malynda consulted with Major's pediatrician who advised them to go to the Emergency Department at Children's of Alabama.
Upon arrival, doctors looked at Major, determined right away that he was cyanotic and initiated the trauma team for a level 2 activation. A CT scan showed that he had a bisected right kidney with a hematoma and urinoma. His right kidney function was unknown. The bicycle handlebars hit Major's kidney "perfectly the wrong way," Brady said. Within an hour and a half, Major was admitted to the Special Care Unit.
The initial plan was to conservatively monitor Major's condition, but by Monday afternoon, one of his nurses called for CHAT – Children's Hospital Assessment Team – when Major's blood pressure was low and his pulse was high. His stomach was distended.
The team ordered additional imaging showing the shattered right kidney and confirming uncontrolled urine leak. Children's urologist David Joseph, M.D., met with the family to explain the extent of the injury. "He was so attentive to us even after a full day with patients in clinic," Brady said. "There were a lot of questions and unknowns, but Dr. Joseph told us that surgery needed to happen right away," Brady said. So Major was prepped for surgery – life-saving emergency surgery.
Major's injury only impacted the right kidney and the arteries around the kidney. The goal of surgery was to stop the internal bleeding and salvage the kidney. An injury like Major's – isolated kidney trauma with continued bleeding requiring surgery – is rare. Dr. Joseph told the family that the last time he performed trauma surgery related to a kidney was in 2016. "It is a miracle that Dr. Joseph was there for Major that day," Brady said.
Within 30 minutes, Major was in the operating room. His surgery lasted nearly five hours, two of which were spent just trying to reach the kidney. Anesthesiologist Travis Defreese and CRNA Kelly Just aggressively stabilized Major while control of the bleeding was achieved; but the team was unable to salvage the kidney due to the multiple fractures, and the kidney was removed in pieces.
Major returned to the Special Care Unit after surgery and was discharged by the end of the week.
And while he didn't return to school and other activities right away as he recovered and regained his strength, he was cleared by Dr. Joseph on Nov. 11, one day before his last soccer game of the season and even got to play with his team. He will return to Children's in one year for a follow-up scan.
"I've always heard great things about Children's but didn't know just what to expect," Brady said. "We were blown away by the care our son received. The level of professionalism coupled with compassion that we encountered from every person on staff – technicians, housekeeping, nurses, doctors – didn't go unnoticed."
Simply put, at Children's of Alabama, "you love kids," Brady said. "You love my kid."