international adoption
January 5, 2022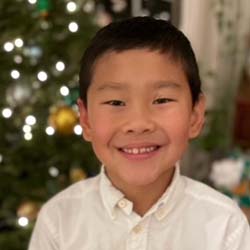 Levi Stickler
The Stickler family was inspired by some friends who had adopted a child from China. When the opportunity came around for them to host a child with the intention of adoption, they seized it.
Darby and Justin Stickler live in Dothan with their children Morgan, Paige and John Martin. They met a little boy named Levi via his adoption file before his arrival in the United States.
"We saw his photo and read his profile. There was a mention of some developmental delays but nothing specific," Darby said. So Darby and John Martin flew to pick up Levi in Washington, D.C., in May 2017, and brought him to Dothan for the two-week visit. "They tell you to 'expect the worst, hope for the best.' From the very beginning, Levi was great."
During his visit with the Sticklers, he developed an ear infection, so Darby took Levi to the family's local pediatrician. A basic exam indicated that overall, Levi was a healthy child. He was right on target for weight and height for a child his age. The doctor didn't see any signs of developmental delays.
That two-week visit was like a staycation for the Sticklers as they bonded with Levi. "Hosting gives families time to develop a relationship with the child," Darby said. But those two weeks quickly ended, and it was time to bring Levi back to D.C. so that he could return to the Chinese orphanage. "Putting him on that plane was one of the most traumatic experiences of my life," she said. Darby and Justin were planning to stay in D.C. for a few days to unwind, but they were so devastated that they rented a car and drove straight home.
They waited patiently for the official go-ahead. And in December 2017, they were notified that they were approved to adopt then 4-year-old Levi. As the Sticklers began planning their trip to China, they were overwhelmed at the cost and logistics of international air travel for their family of five. So Darby posted a question to her Instagram account: Does anyone work for Delta Air Lines who can help me book flights? A serendipitous reply came from a woman whose husband was chief financial officer at the time for Delta. "She told me to call his office, and his assistant would make the reservations at no charge to us. I couldn't believe it. It was so very generous."
Once they arrived in China, "it was the most beautiful reunion you could ever imagine," Darby said. The Sticklers – now a family of six – returned to Dothan in early January 2018.
Prior to meeting Levi, the Sticklers had attended some workshops hosted by the Adoption Clinic at Children's of Alabama.
The Adoption Clinic has been helping families like the Sticklers with international and domestic adoptions since 2002. The team of physicians, developmental specialists, social workers and clinical assistants provides medical evaluations, developmental assessments and therapy assessments.
The Sticklers brought Levi to the Birmingham clinic for a comprehensive exam. "The whole team is outstanding," Darby said. "They can provide a full medical workup plus they understand the emotional side of adoption as well," Darby said. Many of the Adoption Clinic staff have adopted children of their own and can share unique insight with families at every stage of the adoption process.
Today, Levi is a healthy child, a high-performing student, loves reading and is an all-star baseball player. "To think that he was classified in China as special focus (child is older or has significant health concerns) is heartbreaking. It's wonderful and catastrophic at the same time," Darby said.
Darby said Dr. Jennifer Chambers, pediatrician and founder of the Adoption Clinic, was a wonderful resource to them as they navigated the process. "There are so many unknowns, but they have seen everything. They are easily accessible and knowledgeable about the whole child – physical, mental and emotional."