hypertrophic cardiomyopathy
January 3, 2022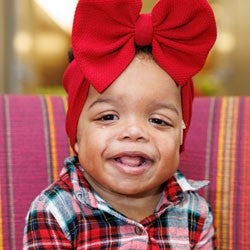 Dajialyn Bullock
They say a phone call can change a person's life. For Dajialyn Bullock, two phone calls made all the difference.
Victoria and John Bullock were newly licensed foster parents. In January 2020, they got a phone call from a social worker who asked if they were open to fostering a medically fragile child. Dajialyn was a 1-month-old girl at Children's of Alabama diagnosed with hypertrophic cardiomyopathy and in immediate need of a foster family.
Cardiomyopathy is a disease of the heart muscle. In hypertrophic cardiomyopathy, the heart muscle is thicker than usual, making it hard for the heart to pump blood through the body.
"Her condition was new to me," Victoria said, but she and John said yes to the social worker and began visiting Dajialyn in the hospital. "We stayed in the room with her so that we could experience what it would be like once she was home with us. The staff gave us peace of mind, and they were always there if we needed them. They still are."
For a month, the Bullocks would room in with Dajialyn at Children's for four and five days at a time as cardiologists and nurses worked with them to get comfortable with Dajialyn's care.
"When we saw her the first time, we weren't sure she would make it. She was on a ventilator fighting rhinovirus, and her little body was cold. From the very start, she needed someone who would fight for her. She knew she had someone there who loved her," Victoria said.
Soon Dajialyn was ready to be discharged and joined Victoria and John at their home in Muscle Shoals. The family returned to Children's for regular visits with the cardiovascular services team.
By the time Dajialyn was 3 months old, she was placed on a list for a heart transplant. One summer day in July 2021, that second life-changing – and life-saving – phone call came for Dajialyn.
At 10 a.m., the Bullocks got notice that a heart may soon be available for Dajialyn. They were instructed not to give her food or drinks in case it proved to be a match. The family waited patiently until they got word that afternoon to go ahead and begin the two-hour drive to Birmingham.
"It was very emotional to get that call," Victoria said. "I was overwhelmed with joy for Dajialyn and sadness for the donor family. A child lost his or her life but gave my child life. It's hard to explain what you're feeling when your child needs life-saving surgery. You're thankful, but it's hard not to think about the donor. You can't help but feel blessed that another family is giving your child life."
Dajialyn was taken to surgery around 7 p.m., and by 4 a.m., she had a new heart. She stayed at Children's for about a week – a fast recovery following heart transplant surgery by many standards – and the family transitioned to the Ronald McDonald House for three weeks before returning home to Muscle Shoals.
"She has been amazing ever since," Victoria said. With increased energy, Dajialyn is walking and talking and doing all the things that keep parents of any toddler on their toes.
Dajialyn is full of personality and loves Disney's Moana. And along with a new heart, she has a new family too. The Bullocks finalized Dajialyn's adoption in November 2021.
"She's going to change the world, and I can't wait to see it. She's a miracle," Victoria said. "I can look at Dajialyn and know that a hero is inside her, and it has changed her life."