Harmony Cooper
April 6, 2023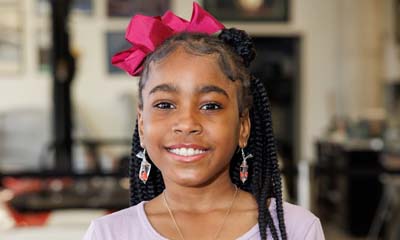 Sickle cell disease
Doctors suspected Harmony Cooper had sickle cell disease when she was just days old. For first-time mother Briona Leonard, the prospect was both unnerving and intimidating. 
"We were leaving the hospital a few days after her birth when doctors handed me a letter suggesting she get further testing at a specialty clinic," Briona said. "So we went and had all the blood work done to find out."
When Harmony was 2 weeks old, the sickle cell diagnosis was official. Harmony was referred to Children's of Alabama, home of the Alabama Center for Childhood Cancer and Blood Disorders, which provides care for more than 1,000 infants, children and adolescent patients with sickle cell disease throughout the state. Harmony was prescribed penicillin to manage the disease and began twice-a-month appointments with Children's hematologist-oncologist Dr. Jeffrey Lebensburger for blood work and blood count monitoring. 
"She was my first child, and at the time I really didn't know what sickle cell was, so I was of course very upset. I had a lot to learn about what to expect and watch out for," Briona said.
"Children's provided so much information that I needed to understand the disease. They took the care to make sure we had every question answered."
It wasn't long before Harmony began contracting viruses causing high fevers and reduced blood counts. The episodes, the first of which occurred when Harmony was 6 months old, resulted in hospitalization and blood transfusions. 
"Each time, she had to stay at Children's for about a week, and that first time I was worried about managing her medication while we were there, making sure she got it as needed and making sure it stays refrigerated like it had to be," Briona said. "The staff was so kind and managed it all for me so I didn't have to worry. I really appreciated them removing that stress."
In 2017, Harmony joined a clinical trial for sickle cell disease at Children's and the trial medication, hydroxyurea, improved her overall health. Today, she's still taking it, and Briona says it continues to help. She returns to Children's only once every three months for blood work.
"Each time we are at Children's, it's such a positive experience because it's always obvious that they care," Briona said. "They take such good care of her."
Now in third grade, Harmony is a cheerleader and a tumbler. She's also involved in a girls' group with the Sickle Cell Foundation of Central Alabama.