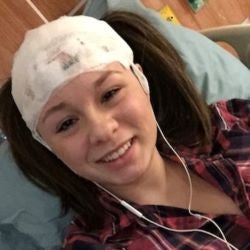 Cathryn Cazalas
At age 10, Cathryn experienced her first seizure during a softball game and was diagnosed with epilepsy by a neurologist in her hometown of Mobile, Ala. Her seizures progressed up to two times per week, and she recalls a single day with three seizures. The frequency was enough that the seizures interfered with her normal daily activities, including school and sports.
In 2011, at age 15, Cathryn was referred to pediatric neurologists at Children's of Alabama who quickly identified the source of the seizures and recommended surgery. Her family carefully weighed the options, and Cathryn had surgery that August.
"We were all very nervous, but Dr. Goyal explained everything and helped us feel more comfortable about proceeding with the surgery. She is an absolute treasure! We all prayed before the surgery because we believe in Jesus and our faith definitely helped us get through it," Cathryn said.
Cathryn's recovery took about six weeks, and Cathryn says her life now – seizure-free – is everything she hoped it could be. "I have done so many things I thought I would never be able to do. When you have seizures, you are always told what you can't do – you can't drive, you can't shower by yourself, you can't – that's all they tell you. Having brain surgery at Children's of Alabama changed my life," Cathryn said.
Right on schedule with her peers, Cathryn received her driver's license and graduated high school. She married her high school sweetheart in 2016 and is now a mom to three children.
As a parent herself now, she reflects on her own childhood and understands that raising a child with an illness can be stressful and emotionally draining. "You were chosen to be that child's parents. Have faith and hope. These doctors have been trained and are the best of the best. Trust your doctor because that's really all we can do as parents – have faith that our children will have a successful surgery." 
As for children who are facing an illness, she advises, "When you feel like giving up, take a minute and let yourself process your feelings, and then get up and keep going because you were put on this earth to make a difference and you're not done yet!" Cathryn, who experienced name-calling and bullying in middle school, wants other children with epilepsy to know they aren't alone in whatever challenges they are facing. "I hope they know how amazing they are. When you have epilepsy, so many things in life are uncertain. I think it's important for these children to have something to look forward to, to encourage them not give up, and to know that there is a bright future ahead."