Declan Stone
May 24, 2023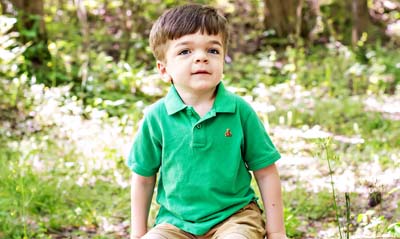 MPS1-Hurler Syndrome
When Jason and Jennifer Stone took their son, Declan, to Children's of Alabama, they thought it was for one surgery. Declan had been diagnosed with hydrocele, and at the time, it seemed that after one surgery, all should be well. "We really thought after surgery was done that our time at Children's would be over, and we'd go about our life as usual," Jennifer shared. "We didn't know that would just be the beginning of Declan's journey."
Surgery to repair the hydrocele was successful, but after just a few weeks, another issue arose: he had a hump appear on his lower back. Declan was immediately sent back to Children's to see a neurologist, who noticed something much more concerning: His head was measuring significantly larger than it should. A sedated MRI revealed Declan had hydrocephalus, a buildup of fluid in the brain. "Within 20 minutes of getting that MRI done, they had us back in Children's emergency room to talk about surgery," Jennifer said.
Although insertion of a shunt is the typical solution for hydrocephalus, doctors believed Declan could avoid it and instead performed an endoscopic third ventriculostomy, which allows the fluid to flow out of the brain. At first, the procedure seemed to work, and Declan was sent home. But he was soon back in the hospital with pressure building in his brain. "He endured two more surgeries, when doctors eventually did make the call to insert a shunt," Jennifer says. "Again, we thought that would be the end of it, but that's when we learned the bigger problem that had been there all along."
The discovery of that problem came a few months after the shunt was inserted. Declan had been a happy baby for a while, but out of the blue, he got sick again. At first, doctors thought his shunt was malfunctioning, but X-rays revealed the underlying issue: MPS1-Hurler Syndrome, a rare genetic condition in which the body doesn't have enough enzymes to break down sugar molecules, leading to an abnormal accumulation of sugars that drastically affects most every system in the body. "Thankfully, a radiologist noticed something odd in his X-ray and said we needed to get in to see genetics," Jennifer said. 
There's no cure for MPS1-Hurler syndrome, just treatment to slow the progression of the disease: enzyme replacement therapy and bone marrow transplant. "Within two days of diagnosis, his doctors at Children's were getting Declan ready for the bone marrow transplant," Jennifer said. "We knew the treatment wasn't going to fix any medical issues he already had, but the hope was to slow down any further issues."
After weeks of preparation and waiting for a donor, Declan successfully received his bone marrow transplant, which kept him in the hospital 60 days. Since then, he's had multiple other surgeries to correct clubfeet and hip dysplasia, both believed to be caused by MPS1-Hurler syndrome. Now seven years old, Declan goes to school and even plays baseball through the Miracle League. "He's a truly happy child," Jennifer said. "He's happy 24 hours a day, seven days a week. He smiles through everything, which is absolutely incredible considering the journey he's had to endure."
Declan continues to visit Children's regularly to be monitored—"Doctor visits won't go away anytime soon," Jennifer adds—but as long as it's his doctors at Children's, the family knows it will all be OK. "Our family is forever grateful for doctors like Dr. Fred Goldman, Dr. Jeffrey Blount, Dr. Michael Conklin and the entire staff of medical professionals at Children's that have been there and will continue to be there for Declan," Jennifer said. "We know that they love our child, and they have made everything not just easier for Declan but for us. Children's has done a phenomenal job of making sure everything is right for my child."