Dean Stratton
May 24, 2023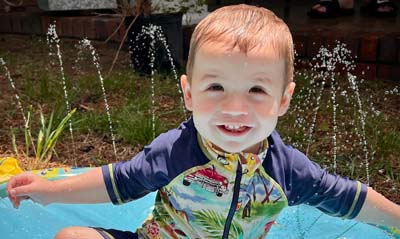 Anaplastic ependymoma (brain tumor)
Dean Stratton of Tuscaloosa began suffering severe gastrointestinal symptoms typical of colitis when he was just 5 months old. Shortly before his first birthday, unrelenting vomiting and other worsening symptoms resulted in a Saturday morning trip to the Children's of Alabama emergency department and a shocking diagnosis that set Dean and his parents, Leighann and Brad, on an unexpected, frightening journey.
 
As part of Dean's evaluation in the ED that day, Dr. Alexander Davis recommended a CT scan to rule out any kind of brain injury which can cause vomiting. The results of the scan led to what Leighann described as a five-second conversation that changed their lives. "Dr. Davis said, 'I have bad news. It's a brain tumor and it looks like cancer,'" she said.
 
Dean was immediately admitted and scheduled for brain surgery a few days later. The surgery went well but the pathology report confirmed a diagnosis of anaplastic ependymoma. His tumor was malignant and very aggressive. Dean soon began chemotherapy treatments that required two-week stays in the hospital. "The doctors and nurses were great. We had everything we needed. It was hard chemo, but he smiled the whole time," Leighann said. "Everyone commented on how happy he was."
 
Dean was able to spend his first birthday, which fell on Thanksgiving Day in 2022, and Christmas at home before beginning proton radiation therapy as follow-up to the chemo. "Dean was given a treatment every day, Monday through Friday, for six weeks," Leighann said. 
 
On February 23, 2023, Dean banged the gong that signaled the end of his treatment. Family, doctors, nurses, friends and even the Hand-in-Paw therapy dogs were among those present for the celebration that included Hero Doughnuts and balloons. And more celebrating was ahead, as Dean's first post-treatment scan in April was clear with no evidence of disease. Leighann said he is doing well overall. Dean is undergoing some additional therapy to help him meet the developmental milestones that were delayed due to his cancer treatment. 
 
The Strattons are especially grateful to the team that has provided Dean's care including neurosurgeon Dr. Brandon Rocque, neuro-oncologist Dr. Katie Metrock, neuro-oncology fellow Dr. Beth Littrell, radiation oncologist Dr. Michael Soike, child life specialist Mary Haddow, nurses Micah Higgins and Sasha Ramini, and pediatrics-medical genetics resident Dr. Alexander Davis who first saw Dean in the emergency department. "I remember the names of all these people because they were so important in our lives," Leighann said.