DAriya Larry
June 8, 2023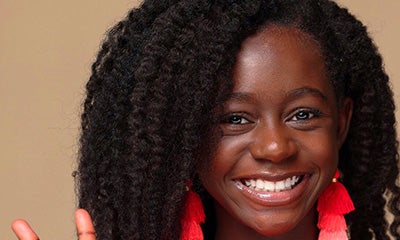 Bilateral subdural empyema
In February 2022, DAriya Larry arrived at Children's with a fever of 103.4, complaints of a headache, altered mental status and difficulty walking unassisted. Soon after arriving at the emergency room, she was admitted. After labs were drawn and a CT scan was taken, an MRI brain scan revealed DAriya had fluid and infection surrounding her brain. DAriya was diagnosed with bilateral subdural empyema and underwent emergency brain surgery for drainage of the empyema. She also underwent a functional endoscopic sinus surgery to target the source of her symptoms.
Nothing could have adequately prepared DAriya's mom, RaShaun Larry, to sit in a waiting room for what felt like days while her 11-year-old daughter was in brain surgery. "My family and I were very concerned and extremely scared of the unknown," RaShaun said. "We were confused about the diagnosis because it started from a sinus infection, which we knew was very common, but it led to a very rare situation that was life-threatening."
As a result of the life-threatening brain infection, DAriya temporarily lost her ability to walk, speak and eat. Her memory was affected too. As she continued to battle a fever and high blood pressure, she began experiencing the onset of seizures. 
RaShaun recounts that the team of nurses and doctors at Children's went above and beyond in their attentiveness and care to DAriya and the whole family. "They assured me that DAriya would be OK," RaShaun said. They explained to RaShaun and her family what was going on, breaking down the steps of each procedure so they were aware of what would happen during surgeries. 
A nurse reminded RaShaun to take a walk, get fresh air and make sure she ate each day. The nurses and doctors at Children's reminded her that in order to be there for her daughter, she needed to be in a healthy, rested place too. "During that time, I didn't care about anything else except being there for my daughter," RaShaun said. "But I knew I needed to be in a good place too."
During DAriya's 33-day stay in the hospital, she received speech, occupational and physical therapy which were all pivotal to her recovery. They focused on improving her strength and mobility and moving her toward independence in grooming. When she was admitted, she was speaking very few words, so speech therapy helped her utilize her communication board. Speech therapy also helped her use identification cards to improve her memory loss. She had a feeding tube for three weeks after her surgeries. RaShaun looks back on DAriya's first meal after the feeding tube was removed—mashed potatoes and Jell-O—with fondness, knowing that this first meal was a huge leap in the right direction of healing. Once DAriya was discharged, she started outpatient therapy which continued for a little more than a year.
"Every day during her recovery, she was able to do more than she was the day before," RaShaun said. She stayed motivated during her time of recovery and rehabilitation through affirming words from her loved ones, lots of popsicles and her affirmation bracelets. Little did DAriya know when she started this bracelet-making hobby that she coined, "StrongEnough," before her diagnosis and surgeries that it would be instrumental in carrying her through her road to recovery. Prior to her hospital stay, she made affirmation bracelets to keep and give away to friends and family. During her hospital stay, she wore a bracelet that said, "you rock, you're amazing, and you can do anything," which was a reminder she clung to every day. DAriya shares these bracelets as birthday gifts or at other special events with family and friends, but she plans to transform her hobby into a business one day.
Today, DAriya is still receiving outpatient therapy at Children's, but she has returned to school, pageants and piano lessons due to all of the amazing nurses, doctors and therapists who were an irreplaceable part of her care. "DAriya's experience has influenced her to seek pediatric care as a career in the future," RaShaun said. "Our family will forever be grateful to Children's of Alabama!"