Cerebral Palsy
June 16, 2021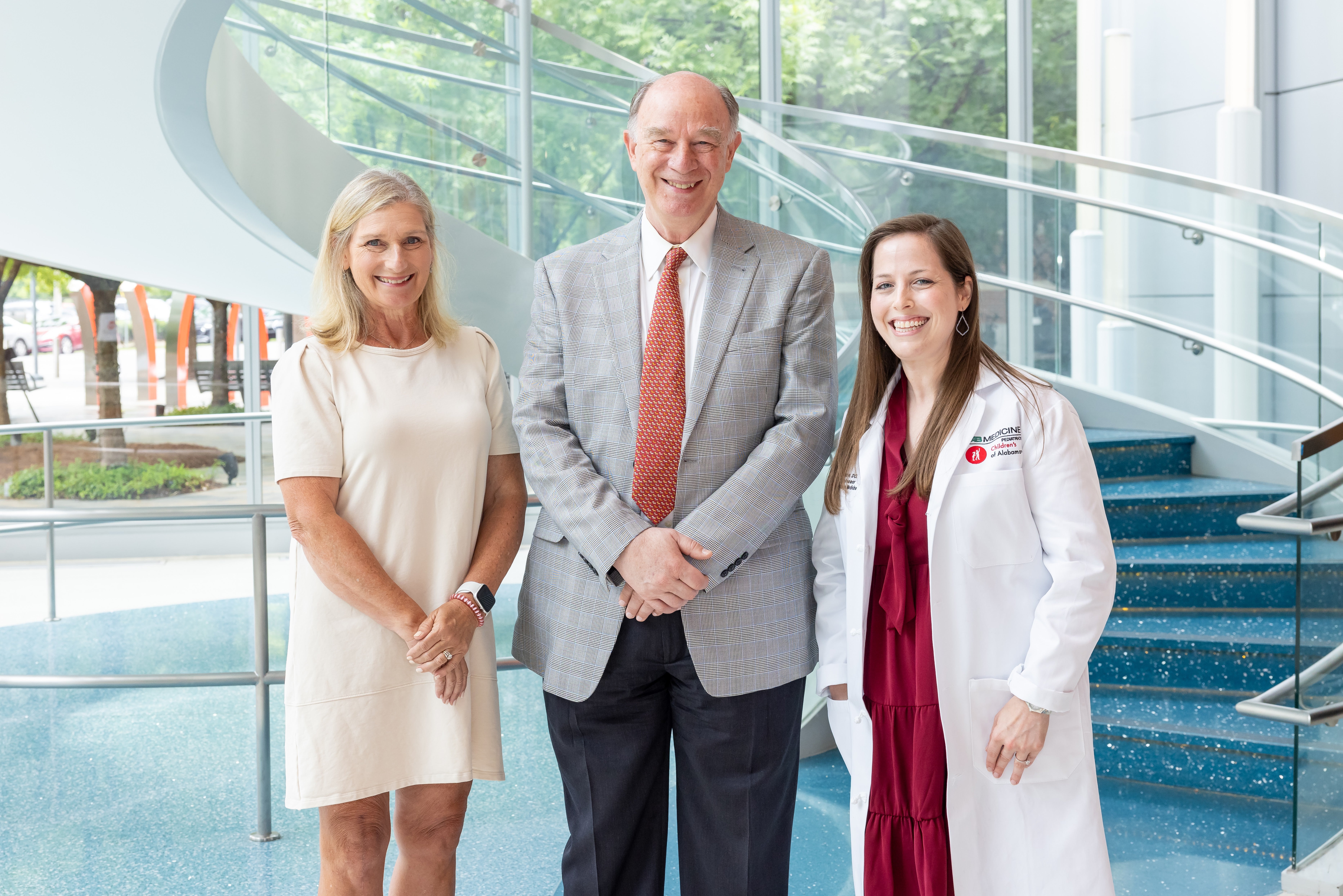 "Dr. Wozow." That was a name Cynthia Wozow heard often growing up because her father was a veterinarian. A career in medicine has always been her intention, she said. "I don't remember wanting to do anything else," Wozow said, as she recalled seeing photos of herself as a child with a plastic stethoscope draped around her neck.
Cynthia's time at Children's of Alabama dates back to 1995, when at age 8, she had a dorsal rhizotomy followed by several weeks of acute outpatient rehabilitation for the management of spasticity secondary to cerebral palsy (CP). She had been diagnosed with CP when she was just a year old, and this spinal surgery gave her increased mobility and the ability to walk independently. "Dr. Jerry Oakes did the surgery, and my physical therapist was Lisa Steed. After the surgery, I no longer needed an assistive device for walking and didn't need to wear my leg braces as frequently."
Fast forward to August 2013. It was now Cynthia's fourth year as a med student, and time to apply for a residency, the traditional training step immediately following medical school. "I stumbled upon rehabilitation medicine, and I knew it was exactly what I was looking for because I had always said, if I could work with CP kids all day every day, I'd be happy." She went on to complete her physical medicine and rehabilitation residency at UT Health San Antonio, followed by a fellowship in pediatric physical medicine and rehabilitation at Baylor College of Medicine-Texas Children's Hospital in Houston.
"It's always been my dream to work at Children's of Alabama, so I reached out to (medical director for pediatric rehabilitation medicine at Children's) Dr. Drew Davis and told him, 'this is my children's hospital, and I would really like to work here' despite no open positions at the time."  Her dream came true in July 2020, when she joined the pediatric rehabilitation medicine staff at Children's of Alabama.
"Walking across the same bridge (from the 7th Ave parking deck to the McWane hospital building) as a kid, and now as an adult to come to work here, it's really fun," she said. As a pediatric physiatrist, Dr. Wozow works alongside some of the same staff who helped her as a patient. "To work with some of the same people who poured so much support and energy into me as a patient is incredible." That includes physical therapist, Lisa Steed. "Lisa and I work together in the Spasticity Clinic, and I refer patients to her in the Gait Lab for evaluation," Wozow said.
When she was reunited with her childhood surgeon, now retired, Dr. Oakes, in June 2021, she smiled as they posed for photos with Steed. "You're both the reason I get to do what I do everyday," Wozow told them. Standing alongside his former patient, dressed in a white coat of her own, "I never doubted it," Oakes said.
Oakes said the first dorsal rhizotomy was done at Children's in 1993, with Wozow's surgery two years later. "That surgery is still done here today," Oakes said. Over the course of his career, he's done more than 500.
Steed described Wozow as a very smart patient. "What I remember is that you were so creative," she said during their recent reunion. "You were always willing to try the next step."
And so today at Children's, Wozow works in both the inpatient and outpatient rehab medicine settings, the neonatal intensive care unit (NICU) and in electrodiagnostic testing.
Her own childhood – as an infant in a NICU to outpatient therapy in pediatric rehabilitation medicine – gave her insight that she draws from to relate to her patients and their families.
In the NICU, for instance, she monitors pre-term infants for early developmental concerns. "I open the conversation with families whose child is at risk for CP as there is a shift now to earlier diagnosis leading to earlier interventions. Traditionally, a diagnosis would come around age 2, but I've been able to identify some children even before they are discharged from NICU. Doctors are doing a better job…kids are living longer, and we have a better understanding of treatment and therapy."
"Families never expect to be in my presence (in pediatric rehabilitation medicine). But I know what life looks like on the other side. She often explains that "a diagnosis changes nothing about your child."  "I make a point to ask my patients to tell me something they are proud of from the day before. I know they are in a situation now that takes them away from what they would be doing otherwise. But there is so much progress for them to be proud of, even the smallest things."
As an adult with CP, Dr. Wozow carefully chooses when and with whom she shares her personal connection with rehab medicine. "Depending on the functional level of the child, I may share my story as I never want to give parents a false sense of hope, but I can certainly re-orient their outlook."
She sees the benefit in selecting a pediatric-specific facility for a child's care. "By choosing pediatrics, you ensure your child isn't just a list of diagnoses. We see your child as a child first. Our job in rehab medicine is to restore function and help the child gain independence."