bacterial meningitis; hearing loss
April 3, 2022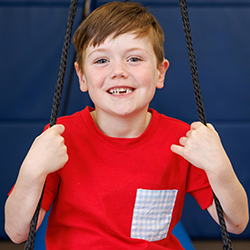 Eli Newman
Anyone fortunate enough to meet Eli Newman can probably tell quite quickly that he's an avid Alabama fan, loves baseball and is a rambunctious little boy. What they can't tell is that he once experienced a significant illness with bacterial meningitis.
When Eli was 11 months old, in 2017, he had an unexplained fever that his mother, Ashleigh, knew just wasn't quite right. "We had been to the pediatrician, and all signs pointed to a fever virus," she says. "But I just felt something was off."
And Ashleigh was right. That very night after the pediatrician visit, they ended up at the local emergency department in Tuscaloosa. When they arrived, his fever had reached 104 degrees. Initial bloodwork came back showing there was bacteria in his blood. "They admitted us and started him on a general antibiotic just to be safe, and the plan was to do more bloodwork the next day," Ashleigh says.
During the night, however, everything changed. Eli had begun seizing—so significantly that anti-seizure medication wasn't working. "It took an incredibly high dose of anti-seizure medication to finally get him to stop," Ashleigh adds. "At that point everyone was watching him to make sure he didn't stop breathing."
Doctors also saw that Eli needed to get to Children's of Alabama as quickly as possible. Children's flight team immediately came to pick him up and get him to Birmingham, where he went right into the pediatric intensive care unit (PICU). A spinal tap confirmed the diagnosis, but bacteria had not continued to grow due to the quick antibiotics he already had in his system. "They did some further neurological testing, and thankfully, they didn't find anything abnormal," Ashleigh says. "The seizures were attributed to the brain infection. It was honestly a miracle."
For about a month, doctors continued to monitor Eli as he continued to improve. "Being in the hospital for long periods of time is never easy, but everyone was just wonderful," Ashleigh says. "It was obvious they truly cared about us—even to the point of the night nurse doing her best to time coming into the room to catch a machine before it could beep so that it didn't wake us up. That kind of care was exactly what we needed at that point in time."
Though Eli soon went home, doctors continued to have him come in periodically for hearing tests—meningitis patients often experience hearing loss. In 2022, a routine test revealed Eli had some hearing loss in his left ear. "They were able to narrow it down to specific frequencies and decibel ranges," Ashleigh says. "At that time, a hearing aid was recommended by our audiologist. Her advice was comforting in walking us through the process."
Eli recently went to Children's for the hearing aid, and not only was it a big deal for Eli, but also for his parents. "He immediately was able to better understand certain consonant sounds, many of which he had never heard or said before," Ashleigh says. "That kind of care is exactly why we wanted to be at Children's. We could go anywhere, but you can't find the knowledge, expertise, and sincere care anywhere else that you always get at Children's."