Avery Tolene
August 8, 2021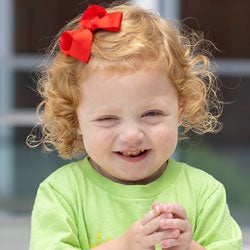 Aplastic Anemia
Avery Tolene is an active 2-year-year-old from Lincoln, Ala., who never meets a stranger. She loves to listen to music, swing, climb and ride in anything that goes fast. When she was born, she was severely anemic and without a functioning immune system.  She was diagnosed with aplastic anemia, a serious and rare condition that affects the bone marrow, preventing production of red blood cells which carry oxygen, white blood cells which fight infection, and platelets which form clots.  It is rare for babies to be born with this diagnosis.
When Avery's mom, Abby Tolene, was 31 weeks pregnant, she noticed a change in Avery's movement. Having consulted her doctor at UAB, she was admitted to the hospital, and within a few hours gave birth to Avery by emergency C-section.
"I had a normal pregnancy until that point," said Abby. "We knew she had club feet before she was born, but that was the only abnormality the doctors could see," she said.  
Immediately after birth, Avery's heart stopped beating and doctors noticed that her blood was as thin as Kool-Aid. The doctors revived her with an immediate blood transfusion, but she remained very sick and stayed in the Newborn Intensive Care Unit (NICU) at UAB on a ventilator to help her breathe for the next two weeks.
"We eventually learned that she had about one ounce of blood in her body, when you really need four ounces to sustain life," said Abby. "Just the fact that Avery was alive was a miracle in itself." In addition, Avery was diagnosed with a brain bleed because of the lack of platelets to form clots. Within a month and half, Avery was permanently moved from UAB to the NICU at Children's of Alabama.
In the first week of life, the doctors examined her bone marrow and determined it was empty. A central line, similar to an intravenous line or IV, was placed in her chest.  This allowed doctors to more easily give medications, and blood and platelet transfusions, which were required to keep her from bleeding and to provide oxygen to her tissues. Unfortunately, there was a limit to how many transfusions she could tolerate, and furthermore, her risk of infection was extremely high due to her lack of white blood cells and no immune system. Her only chance for survival was an urgent bone marrow transplant.
Dr. Frederick Goldman, Director of the Pediatric Blood and Marrow Transplant Program at Children's, was consulted to help manage Avery and make arrangements for a bone marrow transplant. However, Avery developed life-threatening fungal and bacterial infections, which first needed treatment.  In addition, as there was no good match within the family, a bone marrow donor from an unrelated person needed to be identified through the National Marrow Donor Program. Finally, as bone marrow transplantation requires chemotherapy to be administered beforehand, this had to be modified so that Avery would be able to tolerate it. Once the marrow graft was given to Avery, the new stem cells from the marrow donor began to produce red blood cells, white blood cells and platelets within two weeks. She was now on her way to recovery.
After the transplant, Avery developed an infection, but this was able to be treated successfully. She had very few complications after the transplant and slowly began to gain weight and act more like a normal infant. Everyone was amazed at the success of the transplant. According to Dr. Goldman, "This is the first case where a child was born with this degree of aplastic anemia was able to survive. Avery's family was incredible, and never left her bedside.  She is truly a miracle child."
After a total of six months in the hospital, Avery finally was able to go home. "We loved our time at Children's," said her mom. "We had the best team, and we were involved in every aspect of Avery's care," she said. "It made such a difference."
Avery continues to have routine checkups with Dr. Goldman. Although her brain bleed eventually healed on its own, she had some learning delays that were expected, but has progressed well.
Currently, her weekly visits to Children's are for physical and occupational therapies for her club feet. She wears braces to help her walk, but her mom says "nothing slows her down."
As for their family journey, Abby stated, "Avery has lived a long life to only be two years old. I chose to see the joy in things instead of just focusing on the negatives. I think that has made a huge difference for us, and we are thankful for our wonderful experience at Children's…it is still such a special place to us."