Arianna Hernandez
September 28, 2023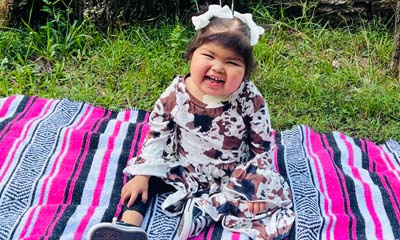 Myocarditis
Bubbly, happy, joyful and a warrior—all words used to describe Arianna. On June 26, 2018, Arianna Hernandez entered the world as a healthy baby girl. Arianna's mom, Verenice Aguilera, said she experienced a pregnancy without any complications. But on May 28, 2019, her family received devastating news. 
Arianna's family noticed she did not seem to be feeling herself—she was vomiting, and her skin color changed drastically. Critically ill, Arianna was transferred from Huntsville Hospital to Children's of Alabama, where she was diagnosed with myocarditis which occurs when the heart is severely weakened by infection or inflammation. She was placed on extracorporeal membrane oxygenation (ECMO) and then transitioned to a left ventricular assist device. ECMO is a heart-lung bypass machine that helps critically ill and injured patients get oxygen to their blood while giving their heart and lungs the chance to heal. It is only used after all other medical treatments have failed and the odds of survival are slim. 
A week after Arianna arrived at Children's, she was added to the heart transplant waiting list. "We kept being hopeful that Arianna's current heart would get better. We thought that if we waited a few weeks or a couple of months that her own heart would improve," Verenice said. "We continued to have faith, but a new heart was needed for her." Arianna spent the next four months being treated by the doctors and nurses at Children's as her family eagerly waited for a heart.
In the fall of 2019, Arianna's family received the life-changing call they had been waiting for: There was a heart for Arianna. On September 16, 2019, Arianna had her heart transplant. Fortunately, she made a great recovery and returned home to her family in Decatur, Alabama. For the next six months, Arianna continued to recover from her transplant surgery, until March 2020 when she was diagnosed with chronic kidney disease. She was also in and out of Children's for other issues including a gastrointestinal bleed. Nevertheless, through each of these obstacles, Arianna's family never lost hope. The unwavering strength and joy Arianna exuded helped her family see the light at the end of the tunnel through each trial they faced. 
In 2022, Arianna was diagnosed with post-transplant lymphoproliferative disorder, or PTLD, a condition in which a tumor grows in the body after an organ transplant in a patient with a weakened immune system. She faced treatment for PTLD just as courageously as she faced every health struggle in her life. Now 5 years old, she is in remission. 
Arianna is not on the waitlist for a new kidney yet because she has to wait until two years after the PTLD occurrence and then be tested for eligibility.
Now, Arianna visits Children's three times a week for hemodialysis treatments. She has been going to hemodialysis for about three years now. 
As Arianna continues to withstand her kidney disease, her family relentlessly refers to her as a "warrior." This spunky and joy-filled 4-year-old is like any other child—she loves dancing, listening to music, playing with her brother, being outdoors, coloring, completing puzzles and even doing physical and occupational therapy at Children's. "She lives her life to the fullest outside of the hospital," Verenice said. 
Tough times call for a village of supporters. Verenice said that their family and friends walked by them through every decision they made for Arianna from the beginning. Their community of loved ones even joined them for prayer nights at the beginning of Arianna's health struggles and joined them for dinners at home so Arianna could enjoy their company. 
And as family and friends offered support, nurses and doctors at Children's continually provided life-saving interventions. "Her experience at Children's was a blessing to me and my family," Verenice said. "The staff treated her like their own. Their love for her is evident in each of their interactions. We expect nothing but the best from them." 
When asked how she and her family have made it through this journey, Verenice said their faith and support system have been essential. "Besides that, I just take it day by day and am as brave as possible for Arianna," Verenice said. "No one is prepared for something like this to happen to your kid, but I just keep going for her." 
After fighting so many battles, Arianna continues to emerge even stronger. When talking about Arianna and her journey, Verenice and her family often say, "God gives his hardest battles to his strongest warriors."