Ajani "AJ" Gumbs
June 2, 2023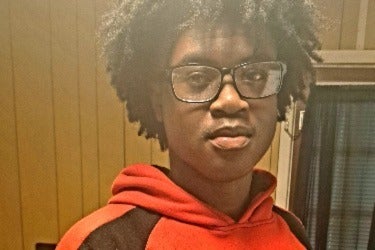 Gunshot Wound, Traumatic Cervical Spine Injury
On July 9, 2022, Ajani "AJ" Gumbs' life changed forever. When a mass shooting happened at a community event, the then 15-year-old was an innocent bystander. AJ's mother, Kimberly Smith, received the call that no parent can begin to imagine: Her son had been shot. She didn't have a moment to process the excruciating shockwaves of the phone call—she left her home immediately to get to AJ. "This took me past the point of heartbreak," Kimberly said. "My soul was shattered."
AJ was taken to Lake Martin Community Hospital in Tallapoosa County, where he and his family live. Shortly following admission, his care team decided it would be necessary to transfer him to Children's of Alabama. That evening, AJ began his more-than 100-day journey as an inpatient at Children's.
In the Children's Pediatric Intensive Care Unit (PICU), AJ was treated for the gunshot wound—which was in his right shoulder—and subsequent paraplegia. Initially, he didn't require respiratory support, but due to swelling around his spine and other complications given the type of injury, he quickly needed endotracheal intubation. AJ was cognitively intact, but the endotracheal tube took away his ability to speak. This was when AJ and his mom met Macy Harvey, a speech-language pathologist at Children's. "She came in with a smile, and I knew we would be in good hands," Kimberly said. Harvey and AJ established a simple yes/no system with various categories to keep communication as direct and accessible as possible. As AJ's condition continued to worsen, he was unable to use his limbs and couldn't use a communication board. But he was visually tracking consistently, so Harvey had an idea that would allow AJ to have a voice: He could use an eye-gaze communication device, which would enable him to use eye movements to select symbols, letters and quick phrases. He was the perfect candidate because although he couldn't physically communicate his thoughts, desires and needs, his language skills were intact. Harvey contacted the local Children's Rehabilitation Services, who loaned a device to AJ.
AJ quickly became acquainted with the technology. On the first try, he used his eyes to type out an entire paragraph. He had many thoughts to share, but they weren't about him. Instead, Harvey saw AJ's deep empathy for others as he shared his concern for his brother, who was with him at the time of the incident, and how his mother and father were coping. "AJ was the one lying in bed, unable to move, unable to vocalize, unable to eat and drink, and yet his concerns were about those around him," she said. "I was given a small glimpse into his incredibly positive perspective on his circumstances and hopeful outlook on his future."
After more than 100 days at Children's, AJ was able to go home just in time for Thanksgiving on November 21, 2022. He's now on a ventilator, and while he has moments when he can talk on his own, he still uses the eye-tracking device to communicate. "This has been his voice for us," Kimberly said.
He continues to recover, regularly visiting the Children's Pulmonary Technology Dependence Program. "We consider them family," Kimberly explained when talking about AJ's care team at Children's. "Macy (Harvey) was the greatest during this time. Seeing her and hearing her voice every day is what got us through. She always cared, encouraged and motivated us."
"AJ has an incredibly bright future ahead," Harvey said. Before the shooting, he wanted to be a motivational speaker. This journey hasn't halted his dream; it has encouraged it – inspiring others to be courageous amidst adversity.