Frequently Asked Question
---
Frequently Asked Questions for the Muscular Dystrophy Association Clinic and Patient Portal
Muscular Dystrophy Association Clinic 
If you have been recently diagnosed with a neuromuscular disease or are new to our area, please have your primary care doctor fax a referral to our clinic nurse at 205-638-9793. Please also bring records of any prior testing performed elsewhere, such as x-rays, MRI scans, muscle biopsy slides, EMG reports, lab testing results and consults or medical reports/records.
During your visit child will be evaluated by multiple members of our team. A typical visit will take about two hours. We recommend that you bring toys, books and snacks to occupy the time.
Follow-up visits are usually scheduled twice annually, but at certain stages in the progression of your disease, more frequent checkups may be indicated.
Yes. We enrolled in our first clinical trial for Duchenne Muscular Dystrophy patients in 2017. We anticipate increased clinical trial involvement in the coming years. We refer to clinicaltrials.gov for the most up to date list of available clinical trials in our area.
Genetic counseling may be provided to families of those who have any of the inherited neuromuscular diseases. Our Genetic counselors help with obtaining and interpreting genetic (DNA) tests, insurance coverage for genetic testing, and identifying others within the family who may be at risk for the genetic disorder.
You will still continue to be seen by your local primary care physician. A summary report will be available upon request to your personal physician after initial MDA Care Center examination and after each follow-up visit. In addition, your MDA Care Center physician may advise your primary care physician on problems related to your specific conditions. 
Depending upon your diagnosis, consultations with various specialists may be recommended, such as a cardiologist. Initially, the purpose of such visits may be to establish baseline measurements of heart function so that these can be monitored for changes.
Foster parents are not able to access their dependent' online health records.
Yes. Individuals who are court appointed legal guardians over person can also sign up for Proxy Access.
FollowMyHealth can be accessed from any computer, tablet, or mobile device with an Internet connection. FollowMyHealth is supported by most web browsers and mobile devices. There is a free "FollowMyHealth" app that can be downloaded from the app store for your smart phone.
Yes. FollowMyHealth (FMH) requires you to have your own account in order to view the online account of the patient entrusted to your care.
Yes, you will be logged out after 10 minutes of no activity. If this happens you will need to log in again.
You will need to provide your email during your inpatient visit. An invitation will be sent out within 12 hours after registration is completed.
You can download the FMH mobile app to your iPhone, iPad, or Android device. Go to the app store on your device and search for the free FMH app. Download the app to your device and sign in to your FollowMyHealth account.
Navigate to the My Health tab. You will see buttons on the page to print, fax or email. Click on the button you need.
Click on the My Health tab and click the Results tab to view results.
To share health information from your child's Children's of Alabama online Health Record:
Login to your FollowMyHealth.
To view your child's medical records, go to the top of the screen next to 'Hello ______' and select your child's name from the drop-down box.
Open the My Health tab to view a summary of your child's health information.
Click on the Export button.
Select Transmit from the Export Type dropdown menu to send all or a portion of your child's online record to an outside organization.
You will need to know the hospital's direct email address. This is different from the hospital's standard email address. Please contact the receiving hospital for their direct email address.
All Allergies and Immunizations from your child's records are available in the portal. Selected Results after 11/22/2012 and Documents after 05/01/2014 are available.
The invitation is good for 180 days. You will receive reminders at 7 days, 30 days, 60 days, and 7 days before the invitation expires.
Maintaining your privacy is our top priority, and we have taken the necessary steps to ensure we meet your expectations as well as all federal and state privacy laws. All transmitted data is encrypted during this process. The data storage is also encrypted for protection. We will not share your personal information with any outside party not affiliated with our organization.
How to Enroll?
How to Enroll for Proxy Access:
Step 1: Provide your email address during your Inpatient visit, registration, or admission process.
Step 2: You will receive the following email from noreply@FollowMyHealth.com inviting you to create Children's Health System of Alabama Hospital proxy account. Please make sure to check your spam folder.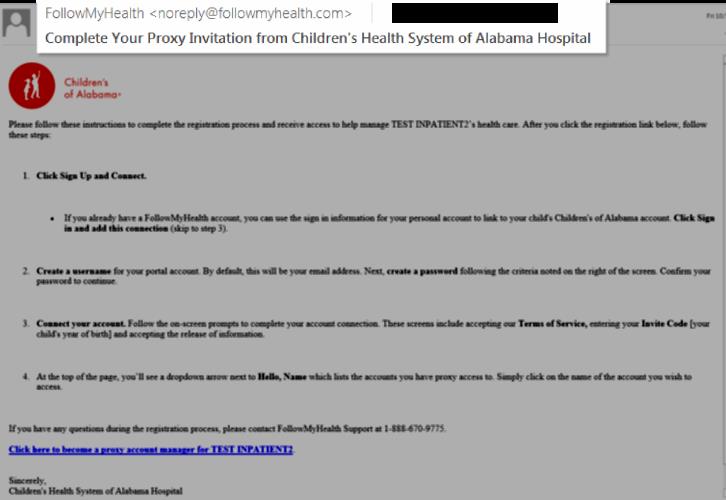 Step 3: Select the link in the email to create an account.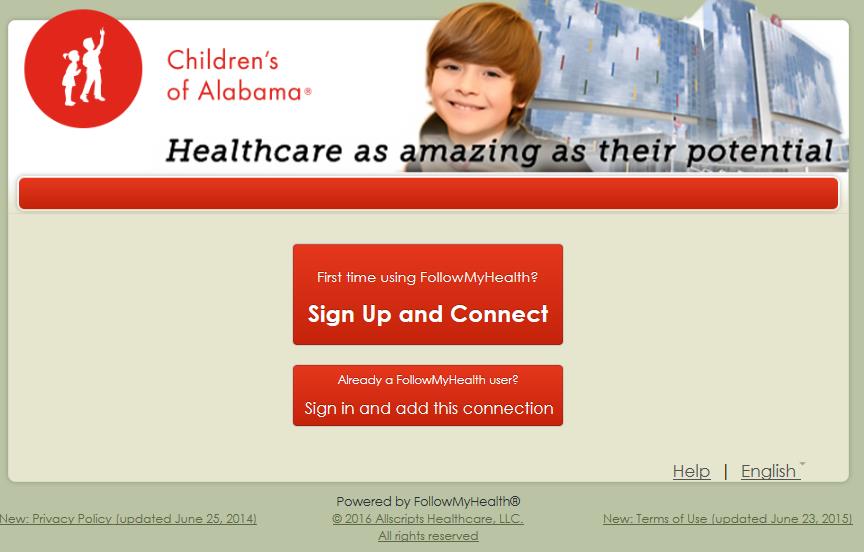 Step 4: Click Sign Up and Connect: This will begin the account setup process. Complete the required fields.
**If you already have an account click "Sign in and add this connection" to link your child's health record to your account**
Step 5: Get Connected: Follow the onscreen prompts to complete the connection This is where you will use the invite code which is your child's four-digit year of birth. You must accept the Terms of Service screen to complete registration.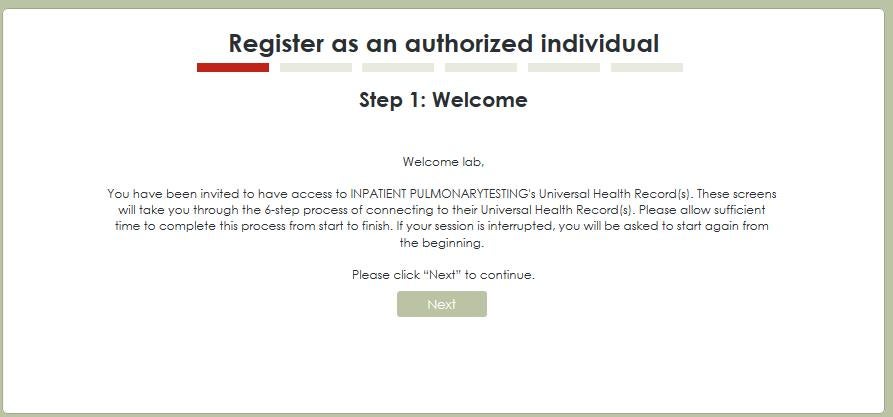 Step 6: Congratulations!!! You can now access your child's medical record online. To view your child's medical records, go to the top of the screen next to 'Hello ______' and select your child's name from the drop-down box.

You can be notified when there is new clinical information by email, text message, or both. To set your preference, go to "My Account"?"Preferences"?"Notification Preferences"
You may not be able to view your dependent's account for these reasons:
Proxy Access is automatically turned off when a child turns 18
Proxy access has been removed
If you have updated any of your demographic information with our registration office, you still will need to update it in your FollowMyHealth account.
To view your child's medical records, go to the top of the screen next to 'Hello ______' and select your child's name from the drop-down box.

Yes. Go to Preferences under Restore deleted items and follow the directions to get back the information that you want. Information deleted from FollowMyHealth, does not delete information from Children's of Alabama Hospital medical records.
Contact FollowMyHealth Patient Service at 888-670-9775. Representatives will be available to assist you Monday through Friday, 8 a.m. – 8 p.m. You can also email support@followmyhealth.com
The log shows information that you have added to your FollowMyHealth account and any updates that Children's of Alabama has made to your child's health information. Please note that any information you add to your FollowMyHealth account will not update in your child's Children's of Alabama medical record.
If you have a secure FollowMyHealth login, click the Forgot My Password link. You will be asked to enter your username. A temporary password will be sent to the email that goes along with your account.
In most cases, Proxy Access allows parents of minors and legal guardians to access the online health information of those entrusted to their care.
Results will be posted to the portal within 72 hours after they are processed. Please remember that some results take longer to process than others, so depending on the test/procedure, results could take as long as two weeks.
Clinical details can be found under the "My Health" tab. Specific data can be found under the appropriate subcategory (lab work would be under "Results", for example).
For technical questions or questions about the content in the Children's of Alabama Health Record, contact FollowMyHealth Patient Service at 888-670-9775 or support@followmyhealth.com, Monday – Friday, 8 a.m. to 8 p.m.
For general or technical questions about our patient portal, contact FollowMyHealth™ Patient Service at 888-670-9775. Representatives will be available to assist you Monday through Friday, 8 a.m. – 8 p.m. You can also email support@followmyhealth.com.
You will receive documents and lab results including Discharge Instructions, Patient Education, and the Clinical Summary, which is a comprehensive view of your visit. However, you will not be able to see every document or result. Some sensitive lab results are excluded, including lab results in the following categories: 
Sexually transmitted disease
Drug and alcohol testing
Reference Labs
Point of Care Testing
Yes. Proxy Access is automatically turned off when a child turns 18.