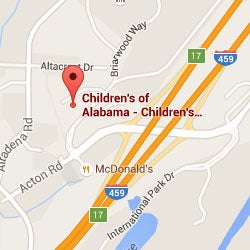 CORONAVIRUS (COVID-19) INFORMATION
1940 Elmer J. Bissell Road
Birmingham, AL 35243
Office: 205-638-4800
Pediatric Imaging Center (PIC) Scheduling: 205-638-2378
In Case of Emergency, dial 911
Outpatient Services Hours:
Monday–Friday
Specialty Clinics 7:45a.m.- 4:30p.m.
Lab 8:00a.m. - 4:30p.m.
PIC - Pediatric Imaging 7:00a.m. - 4:30p.m.
Surgery 5:00a.m.-2:00p.m.
Welcome to Children's South
The Children's South Pediatric Outpatient Center, located at Interstate-459 and Acton Road south of Birmingham, serves patients from newborn to 21 years of age. Children's South provides another location for Children's of Alabama's renowned outpatient surgery services and specialty care clinics.
Thank you for trusting Children's South for your child's medical care.