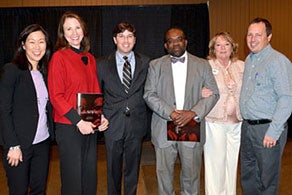 Children's of Alabama and the UAB Department of Pediatrics were represented at the 2015 Martin Luther King, Jr. Unity Breakfast on January 19, 2015 by Susan Walley, M.D., Lori Moler, John Stone, Brian Sims, M.D., Children's Policy Council Executive Director Jennifer Kilburn and Tom Harris, M.D. Children's of Alabama has supported this annual event for many years. For more information, please contact John Stone at john.stone@childrensal.org.
Community Benefits
Children's of Alabama is dedicated to the health needs of children throughout the state – at the hospital, and well beyond. Our aim is to educate caregivers, support complementary organizations, encourage healthy behaviors, and advocate for the wellbeing of Alabama's children through community programs such as:
School Nurse Workshops
Children's hosted its fifth-annual School Nurse Workshop in the summer of 2014, holding sessions throughout the summer to accommodate nurses from around the state.
More than 300 nurses from elementary, intermediate, middle and high schools attended the sessions, which were led by physicians, nurses and social workers who are experts in their respective fields of pediatrics. These experts provided information about asthma, diabetes, ADD/ADHD, autism and orthopedic injuries, and provided hands-on practice through skills labs. Skills topics included catheterizations, pediatric assessment, IV insertion, insulin pumps and carbohydrate counting. By providing training to these frontline caregivers through the School Nurse Workshop, Children's is able to share its expertise with communities across the state. Children's also maintains the state's school nurse website myschoolnurse.net.
Workshop dates for 2015 are currently being set and will be released soon. Once again, multiple dates will be offered to accommodate school nurses from all corners of Alabama. Prices, dates and topics will be updated on this page as released.
Poison Perils App
In 2013, Children's of Alabama launched the state's first mobile application, or app, to identify toxic plants, animals and household items. The PoisonPerils IOS app is easy to use, free, and can be downloaded from iTunes. The app was designed to help parents, grandparents, teachers and other caregivers identify poisons that the Regional Poison Control Center at Children's receives calls about each year. (The poison control hotline, 1-800-222-1222, is available to help potentially poisoned children as well as adults.)
In Alabama, there are six types of venomous snakes, more than double that number of poisonous insects, and scores of toxic plants. Poisonings from household items result in frequent calls to the center as well. In 2012, they received more than 32,000 calls and provided more than 75,000 follow-up calls to assure appropriate treatment and outcomes. The app was developed by Appsolute Genius, a Birmingham software business specializing in the development of custom mobile apps for iPhone, iPad, Android phone, and Android tablet devices. (The PoisonPerils app is not currently available for Android devices.) Blue Cross and Blue Shield of Alabama, the Alabama Chapter of the American Academy of Pediatrics, and UAB helped sponsor the app.
Download the Poison Perils app on iTunes.
Kohl's ThinkFirst
Kohl's ThinkFirst is a National Injury Prevention Foundation educational program for the prevention of brain, spinal cord and other traumatic injuries. People of all ages, including community leaders and public policy creators, can learn about the potentially devastating consequences of risk-taking behaviors and poor decisions. Kohl's donates thousands of dollars annually to Alabama for the program.
Kohl's ThinkFirst for Kids is a comprehensive injury prevention program designed to help children in grades 1-3 develop lifelong safety habits to minimize the risk of brain, spinal cord and other traumatic injuries. The program covers these main topics: introduction to the brain and spinal cord anatomy; vehicle, water, bicycle, sports and recreational safety; safety around weapons; and creative problem solving. The program is fun, yet meaningful, because children learn about activities that place them at risk, and the best ways to stay safe and injury-free.
Kohl's ThinkFirst for Teens is a unique community outreach program for junior high and high school students that presents a powerful injury prevention message – "Use your mind to protect your body." The program includes: an upbeat, age-appropriate video about the susceptibility of young people to high risk behaviors, and the potentially serious consequences of those behaviors; a lesson about brain and spinal cord anatomy, along with the physical results of injuries; and a motivating speech from a neurosurgeon, or someone who sustained a permanent spinal cord or traumatic brain injury.
Partners in KidsHealth
Children's of Alabama produces a monthly video related to a safety, advocacy and/or health promotion topic. Recent topics, which were also tied to print materials and other resources, have included Teen Pregnancy Prevention Education, First Aid Information, Pool Safety Tips, and Heat-Related Illnesses.
To watch more videos, visit our YouTube channel.
Children's Local Media Partnerships
Children's of Alabama partners with local and state media organizations for education and prevention messaging. These ongoing partnerships include segments on "Daytime Alabama" on WVTM Channel 13, "The Doctor Is In" on WBRC Fox 6, and "A Minute With Children's," which is taped at Fox 6 but distributed statewide through the Raycom network of television stations. The wide range of topics in 2013 and 2014 included teen driving, backyard hazards, childhood cancer and common childhood sports injuries. Children's also continued its evolution from content destination to content provider by producing original material such as video releases. The material, produced by the Media Relations team, is included on the "Children's of Alabama Online Newsroom," on video boards within the hospital, and an "Instructions Not Included" blog. Content is produced for other social media outlets as well.
UR KEYS 2 DRV
Children's of Alabama joined with State Farm Insurance and four other leading organizations to host "UR KEYS 2 DRV," a one-day student teen driver safety summit in Tuscaloosa on March 4th. Participants in the summit heard from speakers and rotated among breakout sessions to discuss safety related topics. A driving simulator also provided a valuable hands-on learning experience. "As the medical director of the emergency department at Children's of Alabama, I see the tragic results of teen driver injuries and death every day," Kathy Monroe, MD, said. "The 'UR KEYS 2 DRV' events are designed to educate teens about risky driving behaviors and teach them safe driving skills in an entertaining and engaging way." Other summits will be held in 2015 in Mobile, Huntsville and Auburn.