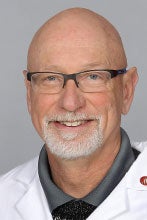 Frederick D. Goldman, MD
Hematology/Oncology; Bone Marrow Transplantation
Locations
Medical Office
1601 5th Avenue South, Benjamin Russell Bldg,
Bone Marrow Transplant Clinic-8th FL
Birmingham , AL 35233
About Me
Director, Blood & Marrow Transplant Program
Professor of Pediatrics, UAB Graduate Biomedical Science Program
Dr. Goldman is Professor of Pediatrics; Director, Lowder Pediatric Blood and Marrow Transplantation Program; Senior Scientist Immunology & Cancer Immunotherapeutics Program, UAB Comprehensive Cancer Center. Dr. Goldman joined the program in June, 2009 after being on faculty at the University of Iowa since 1992, where he was the Director of the Pediatric Bone Marrow Transplant program and the Pediatric Immune Disorders program. He is board certified in Pediatric Hematology Oncology.
Education
Residency:
Tulane School of Medicine , Pediatrics
Medical School:
Louisiana State University
Internship:
Tulane School of Medicine
Board Certifications
Pediatrics, American Board of Pediatrics (1995)
American Board of Pediatrics - Hematology-Oncology (2022)
Honors and Awards
Best Doctors in America U.S. News & World Report Listing (2006-2018), Improving Our Workplace Award , University of Iowa (2008), Elected Member of Society of Pediatric Research (2000)
Special Interests
Dr. Goldman's basic science research focuses on understanding the role of a specific enzyme complex called telomerase in cancer, bone marrow production, and aging, and how this enzyme is crucial in minimizing toxicities of chemotherapy. In addition, Dr. Goldman is involved in studies of new gene transfer methods to treat marrow failure syndromes (Dyskeratosis congenita) and disorders of hematopoiesis (sickle cell disease). His clinical interests center on developing protocols utilizing cord blood transplant as a way to treat a wide array of childhood cancers, including ALL and AML, as well as inherited immune deficiencies and marrow failure disorders. He is also directing clinical studies to asses the role of immunoglobulin to prevent infections in pediatric oncology patients. Dr. Goldman has been recognized for clinical excellence by selection as one of the "Best Doctors in America" from 2006 to the present.
Interests
Bone Marrow Failure Disorders, Sickle Cell Disease, Primary Immune Deficiencies, Gene Therapy & CRISPR Gene Editing
Professional Organizations
American Society of Hematology (1992-Present), Children's Oncology Group (1992-Present), American Society of Pediatric Hematology/Oncology (2000-Present), American Society for Blood & Marrow Transplantation (2001-Present), Pediatric Bone Marrow Transplant Consortium (1999-Present), International Bone Marrow Transplant Registry (2007-Present), Pediatric Immune Deficiency Transplant Consortium (2010-Present)
Publications
1. Devadasan D, Sun CW, Westin ER, Lu, LC, Townes T, Goldman F. Optimizing a Novel Non-Ablative Conditioning Transplant Regimen in a Murine Model of Sickle Cell Disease, Marrow Transplantation, Biology of Blood and Marrow Transplant, 2018 Apr 20. 2. Chang CW, Chang, LS, Westin E, Khodadadi-Jamayran A, Pawlik K, Lamb LS, Goldman F, Townes T. Modeling Human Severe Combined Immunodeficiency and Correction by CRISPR/Cas9 Enhanced Gene Replacement. Cell Rep. 2015 Sep 8;12(10):1668-77. 3. Li, C, Ding L, Sun CW, Wu, LC, Zhou D, Pawlik K, Khodadadi-Jamayran A, Westin E, Goldman FD, Townes TT. Novel HDAd/EBV Reprogramming Vector and Highly Efficient Ad/CRISPR-Cas Sickle Cell Disease Gene Correction. Scientific Reports. 2016 Epub 2016, July 27. 4. Goldman FD, Aubert G, Klingerlhutz AJ, Hills M, Cooper SR, Hamilton WS, Schluter AJ, Lambie K, Eaves, CJ, Lansdorp PM. Characterization of primitive hematopoietic cells from patients with dyskeratosis congenita. Blood, 2008 May 1; 111(9):4523-31. Epub 2008 Feb 29. 5. Vulliamy T, Marrone A, Goldman F, Dearlove A, Bessler M, Mason PJ, Dokal I. The RNA component of telomerase is mutated in autosomal dominant dyskeratosis congenita. Nature, 2001 Sep 27; 413(6845):432-5.